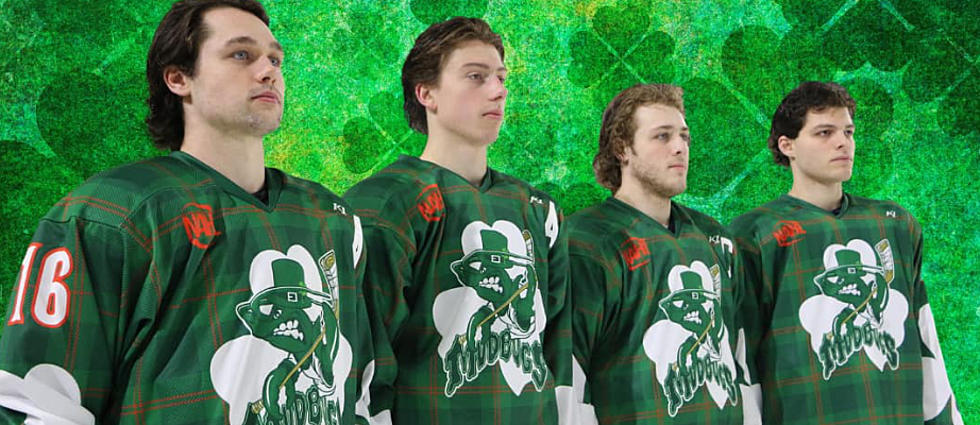 Shreveport Mudbugs Hockey Goes All In On St. Patrick's Day
Shreveport Mudbugs via Facebook
The Shreveport Mudbugs hockey team is fighting to secure their place in the North American Hockey League (NAHL) playoffs. They will be pushing to get that spot as they host the El Paso Rhinos this weekend at George's Pond inside Shreveport's historic Hirsch Coliseum.
But if you've checked out a calendar lately, you'll realize the first of the two games lands on St. Patrick's Day. The Mudbugs are very aware, which is why they will be debuting a brand new St. Patrick's jersey for the game...
You can get your hands on replica hoodies of these jerseys at the game, or win a retired number with the raffle, or score one during the auction after Saturday's game. But they will be wearing those on the ice while they play Friday night.

Oh, and of course there will be green beer available at the game as well. With $3 draft pints during the game.
Since we did mention the Saturday game, where you can win the St. Patrick's Day jerseys after the game, we should point out what else is happening on Saturday night. Because its another big annual event for the Mudbugs...
It's Pooches At The Pond! All dogs will get in for free Saturday for the game.
There will also be jersey raffles and a special $3,180 giveaway Saturday night at the game as well.
You can get tickets for either game right here.
2022-2023 Shreveport Mudbugs Promotional Calendar
See How Much Has Bossier's Airline Drive Changed In 8 Years
Look at these insane changes that Airline Drive in Bossier City has undergone since 2014 through Google Maps
Louisiana's 3 Year COVID Anniversary: What They Got Wrong