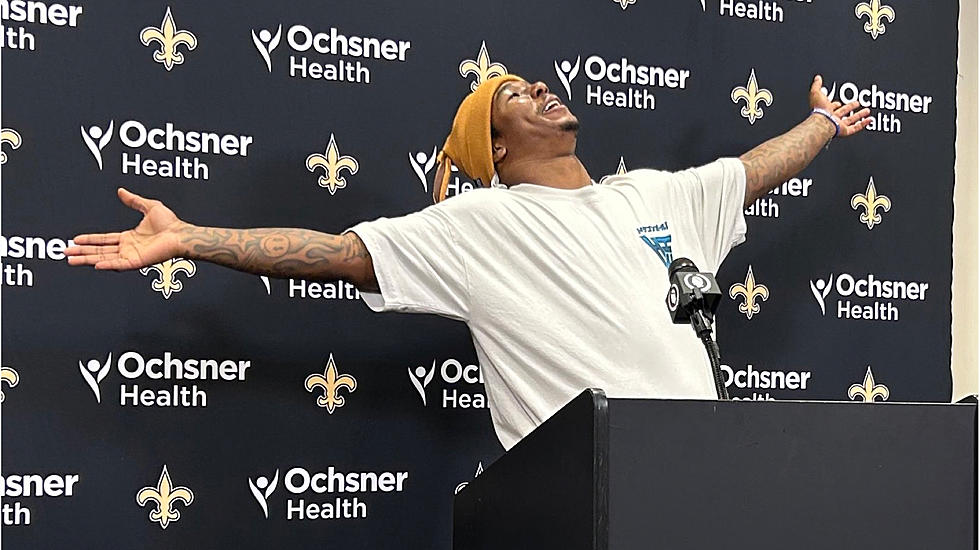 Jamaal Williams Showed Why He's Beloved Around the League in His Opening Presser with the Saints
Photo Credit: Twitter/Mike Triplett
The buzz around the Who Dat Nation when the Saints signed Jamaal Williams was jubilation at the idea of getting a great on-the-field player and an incredible human off the field. No matter where Williams has been in his NFL career, the fans of said teams have loved him.
However, it's not just the fans of the teams he was on that love him. Williams is flat-out beloved around the league. Whether its his enthusiasm on the field or his ability to be comfortable in his own skin off the field, fans and media gravitate to Williams.
Williams didn't let a change in location stop him from being himself. During his opening introductory press conference, Williams gave the Saints fans and media a taste of who he is. Williams let his excitement for football and love of life shine through. Also, Williams is a known anime(Japanese animated tv shows/movies) and manga(Japanese comic) lover. Williams immediately explained to the media that he loves pokemon, and by the end of the season, they(Saints media) will know everything he knows about pokemon.
As an anime and manga fan myself it is beautiful to see him let the world know he loves the medium. Because in the 90s and 2000s anime and manga were looked at as "nerdy" things to watch or read. And even more so African Americans who watched anime were looked down upon by other races, communities, and even other African Americans. So for him to outright claim his love for the medium means a lot to me as an anime and manga fan.
Off-the-field Williams is already showing why Saints fans will grow to love him. Now, let's hope the coaching staff can put him in the best position to succeed. Because if they do, then the Saints will have a good chance of being a good team next season.
Most Valuable Franchises in American Sports
Five of the ten most valuable franchises in American sports come from the NFL.