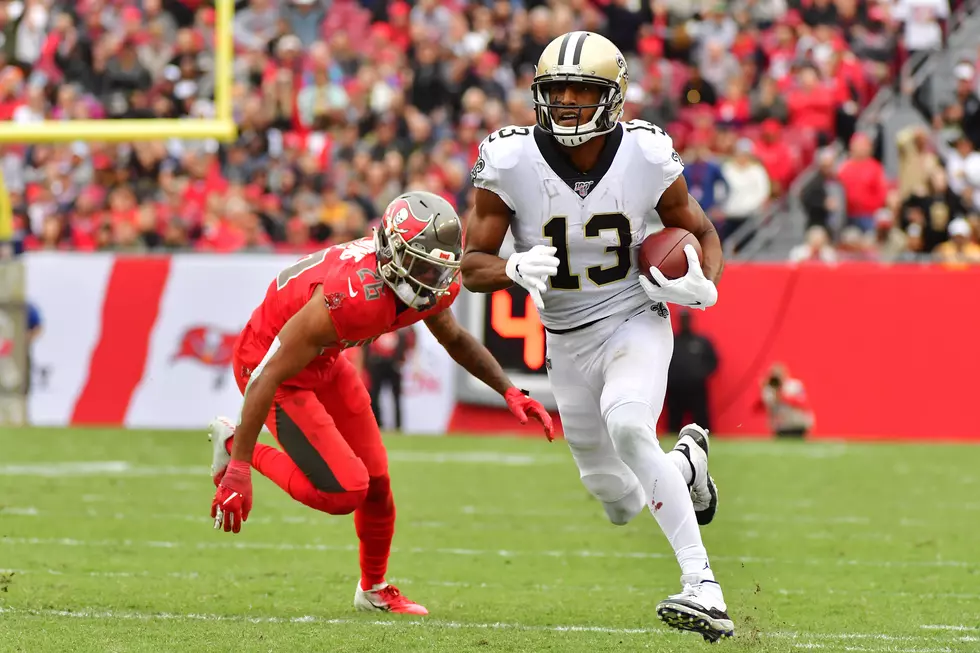 Should Michael Thomas Be An MVP Candidate?
(Photo by Julio Aguilar/Getty Images)
Make no mistake; New Orleans Saints receiver Michael Thomas is not going to win the NFL Most Valuable Player Award this season.
The award is mostly for quarterbacks, and certainly not for receivers.
Since the Pro Football Writers Association began handing out the award in 1975, no receiver has won the honor, while quarterbacks have won 33 times, including 11 times in the last 12 years.
What do all of those players have in common? Yep; they're all quarterbacks.
Now; all of those guys are great players, who are having good years. But am I supposed to believe that the five best players in the NFL this year just happen to be quarterbacks?
It is what it is; it's a quarterback award, but Thomas should at least be a candidate for this year's MVP Award.
When I say "candidate" I mean top five.
Nobody will ever be able to convince me that there are five guys playing at a higher level, at any position, than Thomas.
Through ten games this season, Thomas has 94 receptions for 1,141 yards and five touchdowns.
Well, no receiver is really close to Thomas, statistically. His 94 catches lead the league by 19 (DeAndre Hopkins has 75) and his 1,141 receiving yards is 148 more than his nearest competitor (Mike Evans has 993).
To kind of put into perspective the kind of amazing year Thomas is having; he's currently averaging over 9 catches-per-game. At his current pace, he'd finish with 150 receptions, which would not only break his own club record of 125 catches that he set last season, but it would also surpass the single-season NFL receptions record of 143, which was set by Marvin Harrison back in 2002.
Thomas is also averaging 114.1 receiving yards-per-game. At his current pace, he'd finish with approximately 1,830 yards, which would not only shatter his own team record of 1,405 yards set last year but would also put him in striking distance of surpassing Calvin Johnson's single-season record of 1,964 receiving yards, which was set back in 2012.
So, here's a guy that's on pace to set the NFL's single-season receptions record, and on pace to finish in the top three in single-season receiving yards and you're trying to convince me he shouldn't be a top-five candidate?
Also, keep in mind; Thomas' starting quarterback, Drew Brees, missed half of the Saints' games this season with an injury, and a guy the Saints were counting on to take some of the burden off of Thomas this year at the receiver spot, Tre'Quan Smith, has also missed half of the games due to injury.
Thomas is having an absolute monster year, and he's doing it with not everything falling into place for him.
Back in July, Thomas signed a five-year, $100 million contract with the Saints, making him not only the highest-paid receiver in the league but also the first offensive non-quarterback to receive a $100 million deal.
Based on Thomas' play this year, it looks like the Saints got a steal in that deal.
No, Thomas is not going to win the MVP, but I could probably make a solid case for him against whoever does.