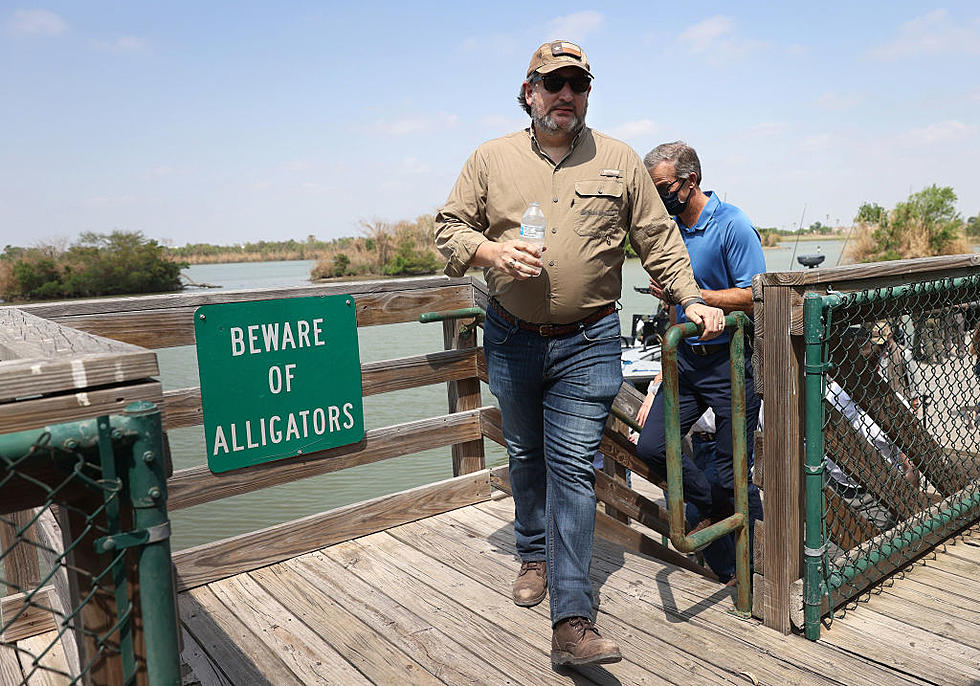 Senator Ted Cruz Posts Himself Fishing but Something Is a Bit Off
Getty Images
Some politicians golf, others hunt, and some do a mixture of it all to relax. If they're doing something, there's a guarantee someone is there to take a photo of them doing an activity.
Personally, being in the entertainment field, I have seen my fair share of photo ops in my life. I once watched a former Lake Charles mayor, not Nic Hunter, stand behind a podium at a venue I was at wave their arms and move their mouth as if they were giving a speech, just so the press could snap some better photos. It's not a new thing. Sometime,  you just need to get the shot and move on.
Over the weekend, Texas Senator Ted Cruz took a ride on a boat at the Lake Ray Roberts State Park during their Bass Master tournament that was going on. Cruz apparently grabbed a fishing pole and decided to get in on some prime Texas fishing. The small thing that either no one noticed while on the boat, or maybe it's just his way, is when the Texas Senator went to reel in his lure.
If we don't pay attention to his footwear or clothes to fish in the Texas heat, we will notice in the picture that the Senator is using an open face bait caster. Being from Texas, that should be expected. They aren't the easiest things to cast, but Cruz showed he could at least hold it right. The problem seems to be in the reeling in process.
Cruz is shown in his jeans, boots, dress shirt, and life vest reeling in his lure with the face of the reel sideways. Now, the internet is divided on this situation. I have seen people do things way differently before. My dad holds a shotgun on his left shoulder but uses his right eye to aim. That stems from him learning to shoot while he had a broken right shoulder growing up.
Holding a fishing pole in this manner just seems super awkward and, perhaps, posed. On the surface, it would seem like a typical politician trying to be normal and missing the mark. Then I thought of Dad and realized maybe that's just how the man reels in a fishing pole.

The internet is, of course, on both sides of the fence ranging from hatred to support. Some say at least he's enjoying himself, while others say that if you're going to be a senator in Texas, you better at least know how to reel in a fish. There has been no comment about the photo from Cruz. Maybe he's hoping the hype will swim on by.
LOOK: Here are the 50 best beach towns in America
Every beach town has its share of pluses and minuses, which got us thinking about what makes a beach town the best one to live in. To find out,
Stacker
consulted
data from WalletHub
, released June 17, 2020, that compares U.S. beach towns. Ratings are based on six categories: affordability, weather, safety, economy, education and health, and quality of life. The cities ranged in population from 10,000 to 150,000, but they had to have at least one local beach listed on TripAdvisor. Read the
full methodology here
. From those rankings, we selected the top 50. Readers who live in California and Florida will be unsurprised to learn that many of towns featured here are in one of those two states.
Keep reading to see if your favorite beach town made the cut.