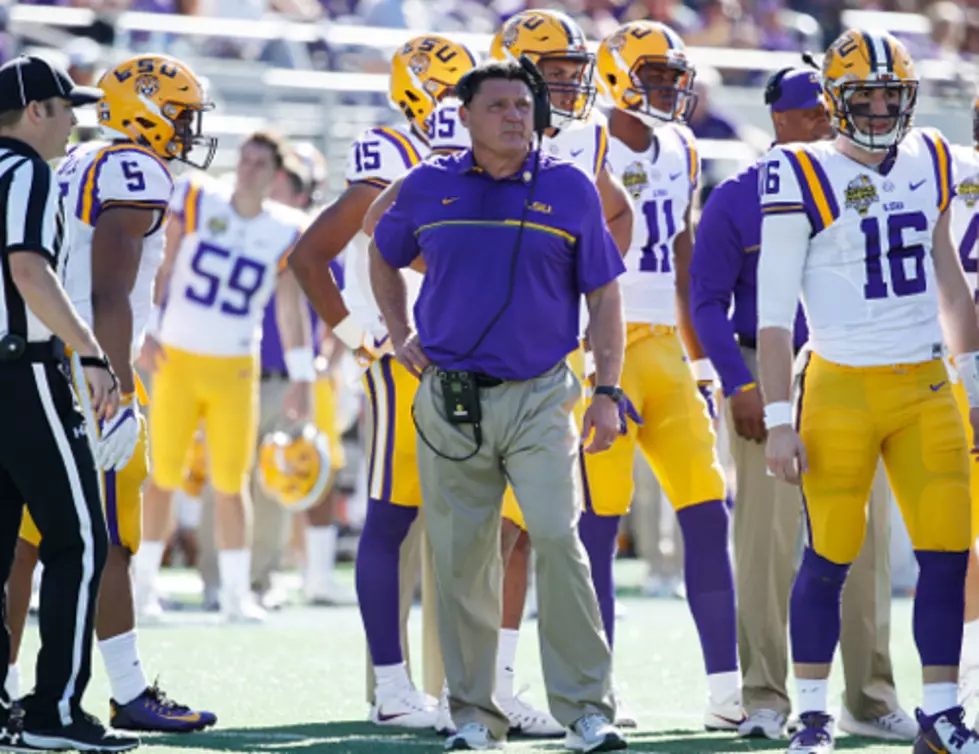 New Orleans Radio Duo Says Coach O 'Like Putin'
joe robbins, getty images
Earlier this week, it was the first day of fall football practice for the LSU Tigers and spirits around the state were running high. But already new coach Ed Orgeron is rubbing some in the media the wrong way and perhaps making them long for the more relaxed - and more open - Les Miles.
And what exactly has "Coach O" done to cause such consternation among the normally fawning media? Well, according to wwl.com, "...the school announced that fall practices would be closed to the media for the first time in school history." Yep, Orgeron's newly instated closed-to-the media rule has a number of folks covering the Tigers in quite the tizzy!
 "LSU is the only school in the SEC to completely shut out the media...in turn that shuts out you the fan!  The casual fan that can't get information or up close and personal to the team without media coverage.  It shuts out the boosters, the season ticket holders and forces us to blindly follow the narrative the school wants to control under Coach O.  What competitive advantage can the team really gain from keeping the media out? What long term goal does this accomplish?"
And the reporter implies that now he may be out to have O's head:
"Ed Orgeron signals the Honey Moon love affair is over with this move.  As a member of the media here is what this move does for me...I would dig a little harder now to see what went into this decision and not just take their word for it.  If I find something I find something. If I don't I don't."
But the Orgeron bashing is just beginning. In fact, the station's Seth Dunlap likens the coach to a certain political strongman, but not before all but calling him a liar!
"Danny Etling getting snaps with the first team today?  That's what Coach O said.  But maybe Etling was hurt.  Or maybe he played so poorly in practice yesterday that Matt Canada put him with the second team unit. There are now no checks on the information you are getting daily on LSU football. Coach O is now the SEC's version of Vladimir Putin, and LSU is its Russia. Think that's hyperbolic?  Probably, but only because there are at least remnants of free press in Russia at the moment."
When he took the job, Orgeron said he'd learned and grown from his previous head coaching stints at Ole Miss and USC (interim). And, despite the current hits to his image, if the Bengals start the season with a bunch of Ws, all criticism will fall rapidly vanish...even from these two.