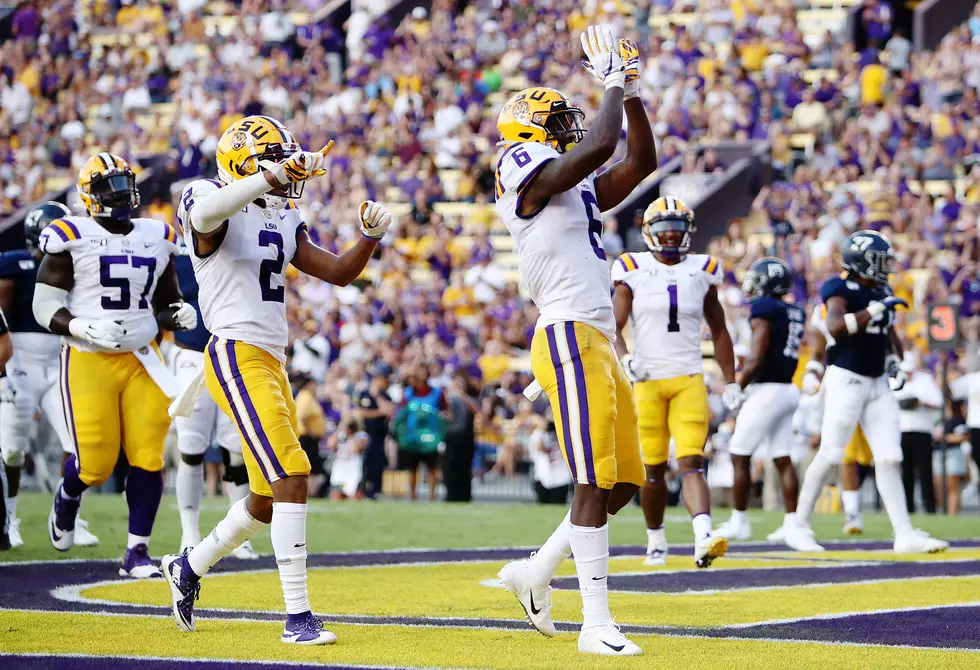 LSU's New Offense Soars As Tigers Dominate GSU 55-3 In Season Opener
Photo by Marianna Massey/Getty Images
LSU fans anxiously awaited Saturday's season opener versus Georgia Southern, hoping to see something they've wished for years. An offense that spreads the field and opens up.
LSU's offense soared, using RPO (run-pass option), spread the field from sideline to sideline, and helping the Tigers earn a 55-3 season opening win against the Eagles.
"It was awesome to see our team execute like this," said LSU head coach Ed Orgeron after the win. "We've been watching them in practice and they've been doing the same thing."
LSU scored touchdowns on their first 5 possessions, and 6 of their 7 first half possessions, leading GSU 42-3 after 2 quarters.
Senior quarterback Joe Burrow was as impressive as he was efficient, completing 23 of 27 passes for 278 yards and 5 touchdowns.
"We felt like we were in the zone (offensively) tonight," said Burrow.
Burrow's 5 passing touchdowns tied a school record (Zach Mettenberger in 2013 vs UAB), and he threw them all in the first half.
He played the opening series of the 2nd half before backup QB Myles Brennan took over the rest of the way.
Despite all the success on opening night, Burrow feels the team has more work to do.
"We had a couple of miscues on some drives," explained Burrow. "We felt like we should've scored on every drive. So we've got some things to clean up, just like every week 1, but I think it's a really good start."
LSU completed 30 passes to 15 different players, led by Justin Jefferson's 5 receptions for 87 yards and a score.
While the offense will somewhat vanilla in the second half when compared to the first, the Bayou Bengals outgained the Eagles 472 to 98.
The Tigers defense was just as impressive as the offense, maintaining gap discipline against the Georgia Southern triple option.
"We've been studying their offense since February and our defensive coaches did a phenomenal job," said Orgeron. "Eye discipline was exactly what the coaches wanted and they stayed in their gap. The thing I'm most pleased with is we tackled well in a (week 1) game."
LSU held Georgia Southern to 98 total yards of offense, smothering the Eagles from start to finish.
How do you gauge where the Tigers can improve heading to a giant week 2 matchup at #10 Texas?
Continue to tackle well in open space, execute the gameplan, and get ready for a battle.