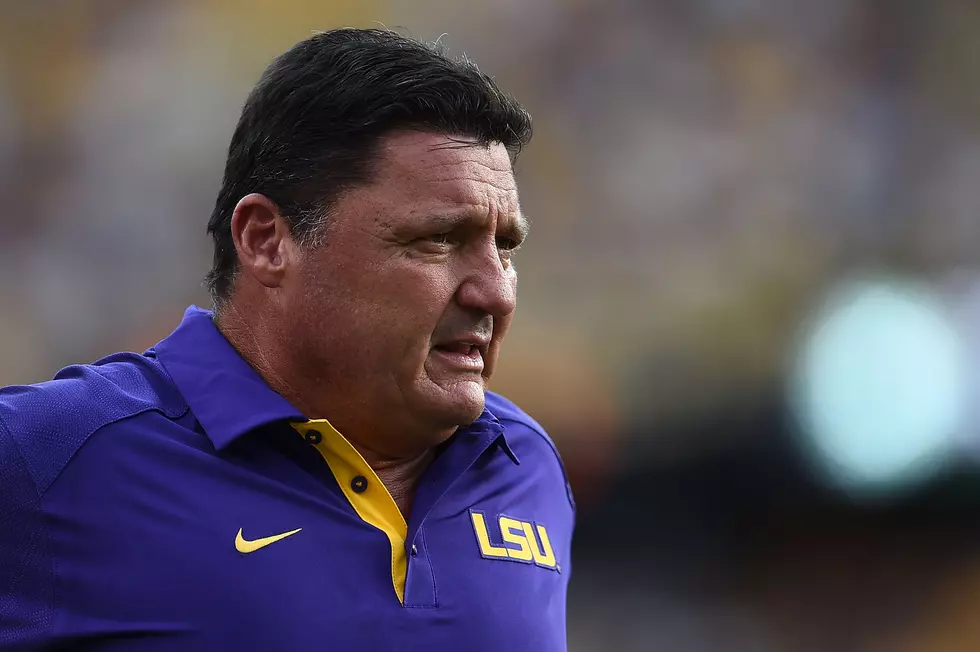 LSU Football Will be Watching the MLB Draft Closely
Photo by Stacy Revere/Getty Images
LSU Head Football Coach Ed Orgeron will probably be paying more attention to the MLB Draft than he ever has before tonight. Not because he's personally invested in the First Round outcomes for any particular MLB team, but because he has a recruit who could end up bolting on his letter on intent to head to his new MLB club.
Maurice Hampton, a 6 foot 200 pound cornerback from Memphis, is likely to be a First Round pick in tonight's MLB Draft. He's currently signed on to play football AND baseball in Baton Rouge, but if he gets picked in a spot that will offer him a big enough contract, he might skip out on college to play baseball.
The MLB Draft is pretty fascinating from a dollars and contracts point of view. It's not as fun as the NFL or NBA Drafts, where you know who a guy will play for right away, and likely WHEN they will start playing for them. Most players picked in the MLB Draft won't see the majors for a few years. Not just that, but some of the players picked in the first round tonight, won't sign their contract at all. Most of the players picked tonight, won't make a dent in the Majors.
Two years ago, the number one overall pick was Royce Lewis. He was selected by the Minnesota Twins out of JSerra Catholic High School in California. His signing bonus was $6.7 million. He's currently playing Single A baseball in Fort Myers, hitting .224 at the plate.
Lewis was a high school shortstop, a lot like Hampton, who will need a lot of time to develop in the minors, if he ever does develop into a major league player.
But it's not really about that, as much as it is the signing bonus. If Hampton was selected #1 overall, and given a $6 million signing bonus, he's likely splits from LSU and goes to ride buses in minor league baseball.
Right now, MLB.com projects Hampton to be picked #33 overall by the Arizona Diamondbacks, a spot that would likely place his signing bonus around $2 million. He would have to be picked in the top 20 picks to see the bonus rise to $3 million.
Hampton's father told USA Today that his son will likely be heading to LSU, unless he gets picked high enough in the First Round:
"If it's in the first round he'll definitely take a good look at it, but if it's second round he'll probably be at LSU"
By the end of tonight, Hampton, Orgeron, and LSU fans will all probably know what's going to happen for Hampton. By the end of the first two rounds of the MLB Draft, he'll likely be on his way to an MLB farm system, or to Baton Rouge.