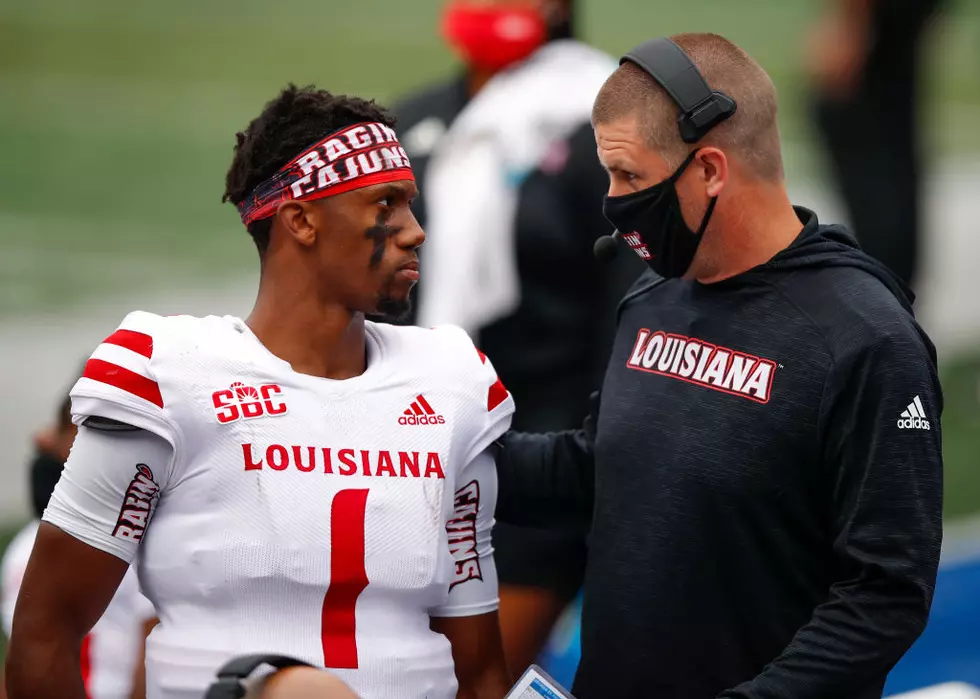 Two Louisiana Teams Make Post-Spring Top 25 Football Polls
(Photo by Todd Kirkland/Getty Images)
It is obviously way too early to consider these rankings to have any true impact on the 2021 college football season, but they're a start.
People complain every year that the pre-season rankings will eventually influence the end of the year, and that it's an unfair situation to some teams. Which, there is probably some truth to that. But some of those teams that used to complain about that are actually finding themselves in these pre-season rankings now, so that argument might be fading.
One of the specific teams is actually a Louisiana based school. University of Louisiana-Lafayette, or ULL, finds themselves inside the post-Spring Top 25 in two different rankings. That's great news for the program and Head Coach Billy Napier, because it gives them an advantage in the polls.
If these rankings, one from ESPN, and one from 247Sports, carry over into the actual pre-season polls, the Ragin' Cajuns would be in position to grow with every win. When a team from a conference like the Sun Belt goes on an undefeated tear during a season, but they started outside the Top 25, they have a hard time cracking that Top 10 mark late in the year. But if the Cajuns can start at their current ranks, #16 in ESPN and #24 in 247Sports, they could easily find themselves in a Top 10 situation, making arguments for inclusion late in the year.
Beyond the Cajuns, there's another Louisiana school swimming in these post-Spring rankings. A powerhouse program looking to return to form.
Of course, its the LSU Tigers.
ESPN has Coach Ed Orgeron's crew at #20 on their list, while 247Sports slides them in a #13 (almost an inverse of ranks for where each had the Cajuns). ESPN seems intrigued by LSU bringing their entire offensive line back, while sounding optimistic about the coaching additions the team made.
But LSU did lose A LOT of talent to the NFL from last year, including Terrace Marshall, JaCoby Stevens, and Jabril Cox. Plus the status of superstar recruit Arik Gilbert still seems to be in flux.
In addition to that, there seems to be a legit quarterback controversy once again. This might be an unfortunate final chapter for Myles Brennan. The QB came to Baton Rouge with a list of records from his high school career, but had to sit behind one of the greatest college QBs of all time in Joe Burrow, then got hurt last year, and now has the son of a Super Bowl Champion quarterback (Brad Johnson) in Max Johnson pushing him for his job. Johnson played well as a true freshman at the end of last year, and has the pedigree to take over the program right away.
Both teams are poised to make strides in 2021, and these post-Spring rankings are proof.
The Smallest Towns & Villages In Louisiana
These are the smallest towns and villages in the state based on population. The population data was compiled by
Louisiana Demographics
, using data from the U.S. Census Bureau.
Geek'd Con Lineup 2021: August 13th-15th
After a year off, Geek'd Con is back and we have an amazing lineup! Here's our guest line up for this year's show. If you want to go,
you can buy your tickets here
.