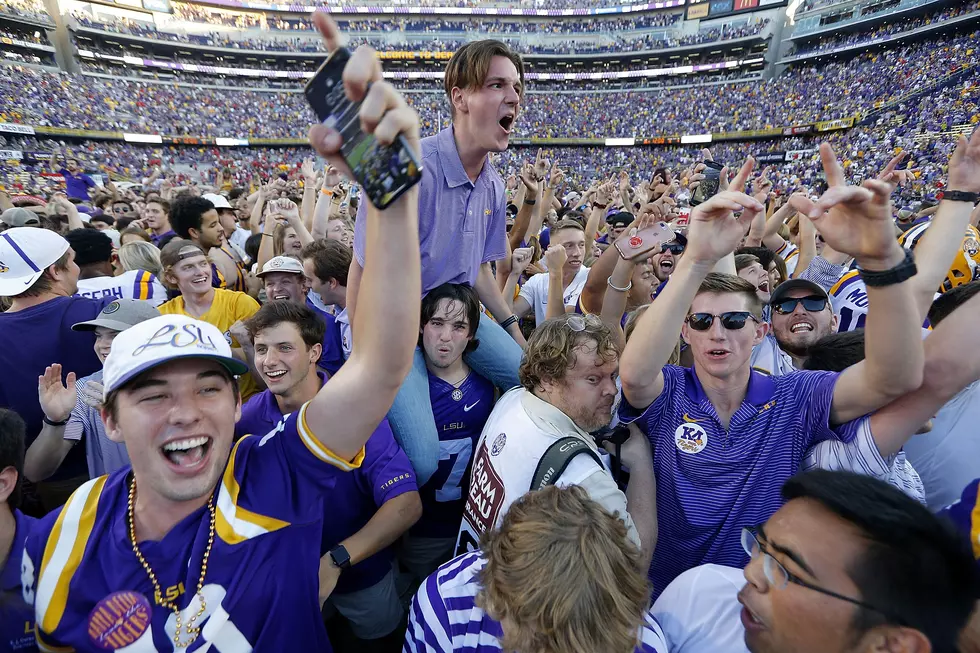 LSU Football Fined $100k for Fans Rushing The Field After Georgia Game
Photo by Jonathan Bachman/Getty Images
The fans knew it was coming, and they have pretty much all said it was worth it. The storming of the field after the Georgia win is going to cost LSU a little bit of cash.
The SEC has fined LSU $100,000 for their fans storming the field after their win over #2 Georgia. A big enough number to catch a lot of attention outside of the athletic department.
First, don't cry for LSU. They're one of the most profitable football programs in the nation. $100,000 actually doesn't mean much to the program. Even though other departments at LSU would LOVE to have that kind of money. Like it or not, football has that cash.
Second, I'm not upset at the SEC fining the team. Fans storming the field should be reserved for REALLY big moments. When an SEC team who's 0-4 beats a ranked team on their home field, yes, fans should storm the field. So dropping big fines will cut out all of the unnecessary on-field celebrations.
Which brings me to this LSU example. Did LSU fans really need to storm the field? Probably not. LSU was ranked. Ranked in the Top 15 actually, so beating the #2 team shouldn't result in a field storming. As many say during touchdown celebrations...act like you've been there.
LSU wasn't a massive long shot on paper, LSU reasonably could have won this game at kickoff. If This were basketball, and LSU was ranked #15 and Ole Miss was ranked #2, would it make sense for basketball fans to storm the court after that win?
I guess what this actually shows, is what LSU fans actually thought about their team. LSU fans didn't believe their ranking before the game. LSU fans saw their team as a long-shot to win. So when the team that they believed wouldn't win, actually won, they felt the sensation to celebrate like it was a massive upset...even when it wasn't.
So the SEC dropping this fine on LSU is going to help keep this in check. Which is actually good in the long run.