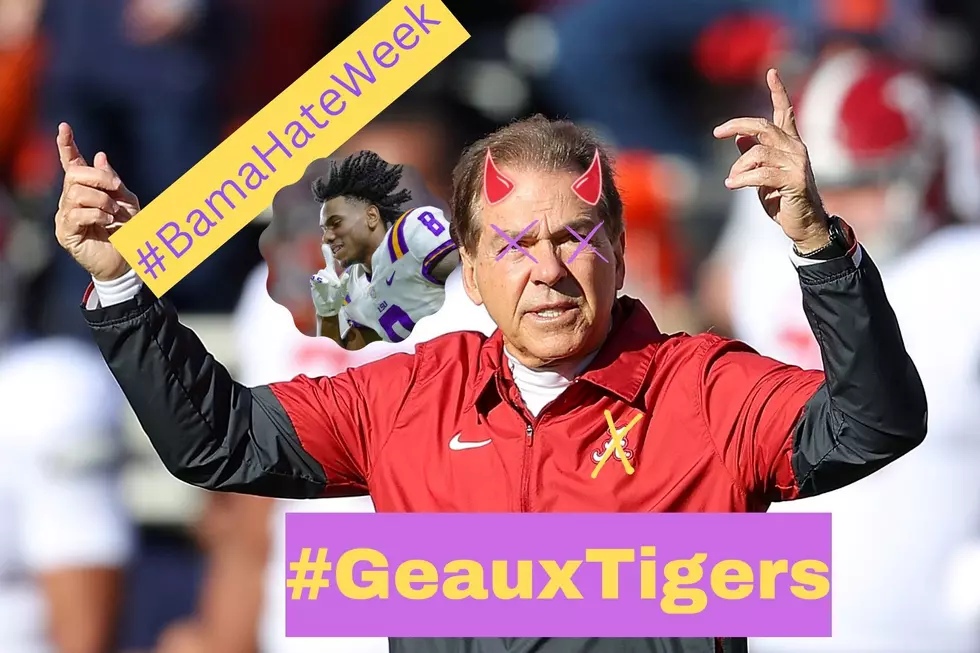 These Bama Hate Week Tweets Go Straight for Nick Saban's Jugular
Brandon Sumrall, Kevin Cox - Getty Images
In Louisiana, overall, we are a very loving people.  We love God! We love Mama! We love gumbo! And we LOVE LSU football!
And the last thing we want is for anyone to do anything that we consider a "slight" to our Tigers!
And that's exactly why we hate Satan; Saban that is. We feel like he betrayed us. Let me paint the picture for you.
How Did All Of This Get Started?
It was the 2003-04 season and Saban coached our tigers to a 13-1 season as he led our boys to a win over Oklahoma for our first national championship since 1958 in the glory days of Billy Cannon!
Then, at the conclusion of that season, Saban just left us. Wham bam thank you mam. I'll never forget his quote, "I repeat, I am not going to the University of Alabama."
Well, he didn't. He coached the Miami Dolphins in the NFL for two years, and then he committed the unforgivable sin. He went to the University of Alabama. Some say his two year stint with Miami was just a ploy to avoid appearing insincere with his "not going to Alabama" statement, but that had been his intention all along.
So Why Is Bama Hate Week All About Nick?
He's the common denominator.  LSU has played the University of Alabama in football since 1895 and they've played each other annually since 1964.  And while we've always wanted to win each contest, the real rivalry didn't exist until 2007, when Satan (Saban) first showed up on the campus of the University of Alabama.
Since then, no one can deny Saban's success at the helm of Alabama.  He's led them to six National Championships in 2009, 2011, 2012, 2015, 2017 and 2020.
Of course, LSU hasn't fared too badly since then either as we won National Championships under Les Miles in 2007 and in 2019 under Coach Ed Orgeron.
What If Nick Had Never Left LSU?
Some wonder what dynasty LSU might have become if Nick had never left Baton Rouge.  That's probably the cornerstone of Bama Hate Week.  The curiosity of what might have been.
See Country Stars Who've Played Football
Darius Rucker played football when he was young. Kenny Chesney and Garth Brooks played in high school while Trace Adkins, Chase Rice and Lee Brice played college ball. See a short list of country singers in their football uniforms.