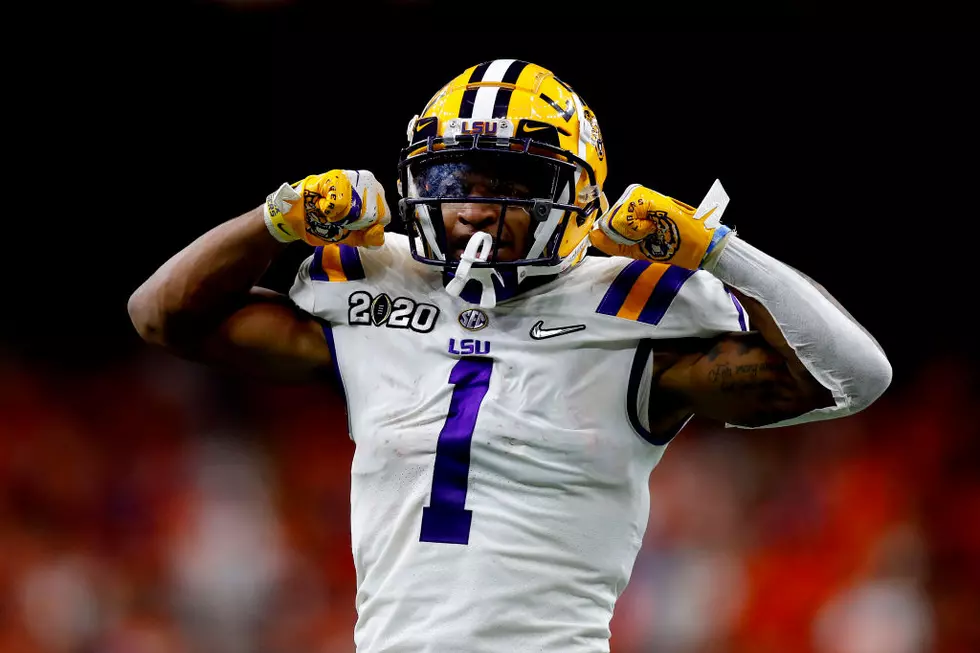 Ja'Marr Chase Reunites With Joe Burrow In The NFL
(Photo by Jonathan Bachman/Getty Images)
The Cincinnati Bengals pulled off an amazing move during the First Round of the 2021 NFL Draft. It's the kind of perfect story that the NFL seems to miss more often than not. Getting this right has made a lot of fans happy, Bengals fans and LSU Tigers fans both.
With the 5th overall pick in the NFL Draft, the Bengals took LSU wide receiver Ja'Marr Chase. This brings Chase into the same franchise that selected former LSU quarterback Joe Burrow 1st overall last year. Meaning the two former Tigers National Champions will be reunited on the same NFL offense.
Chase being selected number five overall in the draft is a pretty strong indictor of his talent. He took the entire 2020 college football season off, opting to prepare for this draft. So for him to be able to maintain a Top 5 grade in the draft after not playing college football for a year is pretty impressive.
But setting up Chase to Burrow once again is a brilliant move for the Bengals.
Burrow's National Championship season at LSU was the greatest season a college quarterback has ever seen, and Chase was a big part of it. Burrow threw for 5,671 yards, 60 touchdowns, and only 6 interceptions. That season, Chase caught 84 passes for 1,780 yards and 20 touchdowns. This is the kind of magic the Bengals will be hoping for at the NFL level.
There are some detractors for this magical combination though. Burrow was injured last year when the Bengals offensive line was regularly unable to keep him protected. That had a lot of experts and fans wanting the Bengals to take some offensive line help to keep Burrow protected. It's not a bad point, but it's not as magic as the LSU combo coming back together.
Geek'd Con Lineup 2021: August 13th-15th
After a year off, Geek'd Con is back and we have an amazing lineup! Here's who we've announced so far...and we have more guest announcements to make over the coming weeks!
Read More: Top 10 Beers Made in Louisiana