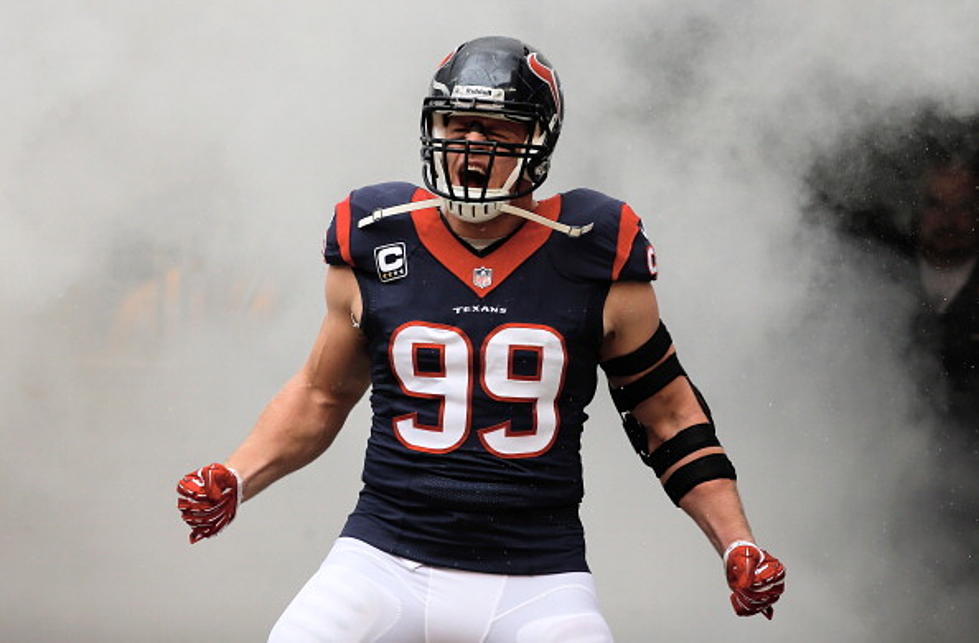 Former Houston Texan JJ Watt Says Free Agency Is "Wild"
Photo by Scott Halleran/Getty Images
One of the greatest players in the short history of the Houston Texans franchise is a true free agent for the first time, and he thinks its "wild". Three-time Defensive Player of the Year JJ Watt has agreed to part-ways with the Houston Texans, and is now looking for a new home.
We're not sure if this is a good or bad response, but Watt unleashed this Tweet yesterday about his experience so far...
Interesting, short sentence from Watt. It doesn't tell us whether or not he's enjoying it, or finding it ridiculous, but whatever is happening in Watt's world, he felt the need to let us know this.
It could mean that there's a huge demand for his services, or it could mean that teams don't really care. He could have a lot of interest, but for much less money than he was making in Houston. Perhaps there's interest from teams he doesn't want to play for, and no interest from the teams that he would like to join.
We know right now that there are some really logical spots for Watt to land, but there's no guarantee that any of those franchises want, or can afford Watt's signature on a contract. For example, the Green Bay Packers.
Watt is a Wisconsin native, and the Packers always seem to need defensive help. It feels like it would be a dream match in a lot of ways. But for 2021 the Packers are already about $13 million over the salary cap. Meaning the team would have to cut a lot of contracts to just get under the cap, and would have to cut even more to bring Watt on board.
Another team that might be a match for Watt are the Pittsburgh Steelers, who currently have his two brothers TJ and Derek on their roster. But it might be hard for a Steelers family reunion when their franchise is already $14 million over the salary cap.
There are teams who have the money to bring Watt on board, only 11 of the league's 32 teams are over the salary cap right now. But does Watt want to play for a franchise like the Cleveland Browns or New York Jets, but both of those teams have the money to sign him right now.
So yeah, at this point, free agency does seem "wild" for Watt, for a lot of possible reasons.
Read More: Ten Things People Hate About Winter