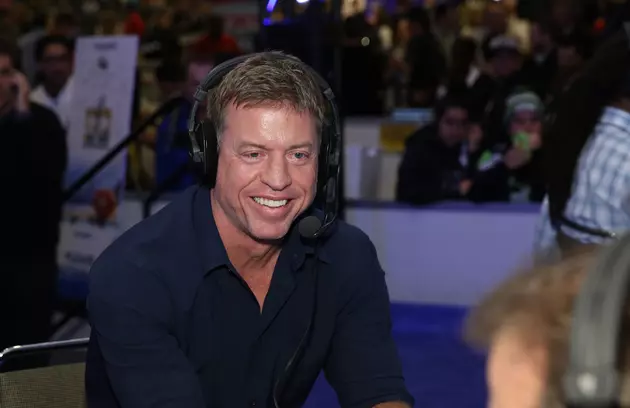 Will Cowboys' Legend Troy Aikman Be Banned from Sunday's Playoff Game?
Cindy Ord, Getty Images for Sirius
There is a petition gaining signatures online, but how far will it go?
I know. The headline seems completely absurd, but there is truth to the fact that there is a petition online asking that both Troy Aikman and Joe Buck be banned from calling Sunday's playoff game between the Cowboys and Packers. I'll give you one guess who started the petition.
A Cheesehead.
According to the Dallas Morning News, Andrew Dorff started it and gave it the title "Get Troy Aikman and Joe Buck banned from announcing Green Bay Packer's games." Dorff lives in Brookfield, Wisconsin. The petition began four days ago after we learned the Packers and Cowboys would face off and that the game would be broadcast on Aikman and Troy's Fox network, but it has certainly gained ground in that time.
More than 20,000 signatures are on the petition on Change.org.
He claims that the two are bias toward the Packers in their comments, but do you think for a second that Cowboys fans would not want to see their championship quarterback on that screen alongside their team's expectation-breaking season? Of course they want him there. Aikman spoke briefly on the matter in a recent interview with The Ticket and stated confidently that there is a long line of events that would need to happen before he takes a seat outside of the broadcast booth on gameday.
Aikman said this isn't the first time he's had fans ask for him to be banned and he's even gotten push back from Dallas fans in the past.
All this being said, we fully expect Troy Aikman to be on our televisions come Sunday evening.