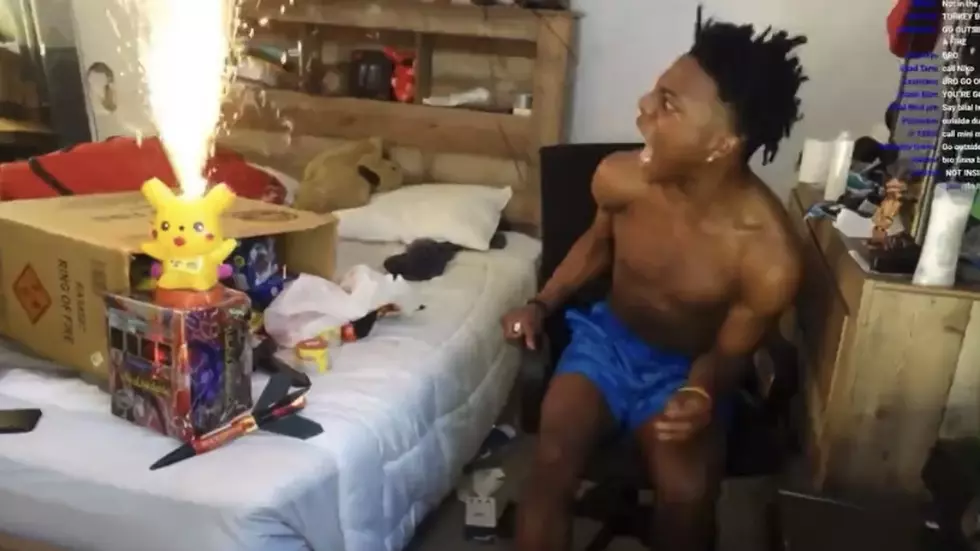 Streamer Sets-Off Pikachu Firework In Bedroom and Nearly Burns Down the House
Twitter via @cfcfludey
With the 4th of July weekend came plenty of explosive moments and that included one streamer who apparently didn't get the message that fireworks should be lit outdoors. Check out the reaction of the confused streamer, his angry mother, plus the rest of the internet here.
Fireworks and the 4th of July go together like peanut butter and jelly. The only difference is that a PB&J won't ever come close to setting your mother's house on fire.
For one streamer, he nearly sent his family home up in flames when he decided to light-up a Pikachu firework in his bedroom.
The streamer goes by the name "Speed" but no amount of quickness was going to help him put out this fountain-style firework.
Sparks were flying across the room as the streamer scrambled in a panic.
After calling for his mother, the streamer was eventually able to get the firework off of his bed where it later went-out.
Thankfully, none of the sparks were able to create a flame by connecting with the bedding or any of the other fireworks that played in a box underneath the Pikachu.
Streamer Sets-Off Pikachu Firework Inside and Nearly Burns Down the House
*** WARNING - NSFW language used in this video***
See the full clip from the stream via @cfcfludey on Twitter below.
Later on, the stream showed fireman investigating the scene. The streamer did his best to explain what happened.
See the internet's reaction to the moment here.
LOOK: The top holiday toys from the year you were born
With the holiday spirit in the air, it's the perfect time to dive into the history of iconic holiday gifts. Using national toy archives and data curated by
The Strong
from 1920 to today,
Stacker
searched for products that caught hold of the public zeitgeist through novelty, innovation, kitsch, quirk, or simply great timing, and then rocketed to success.