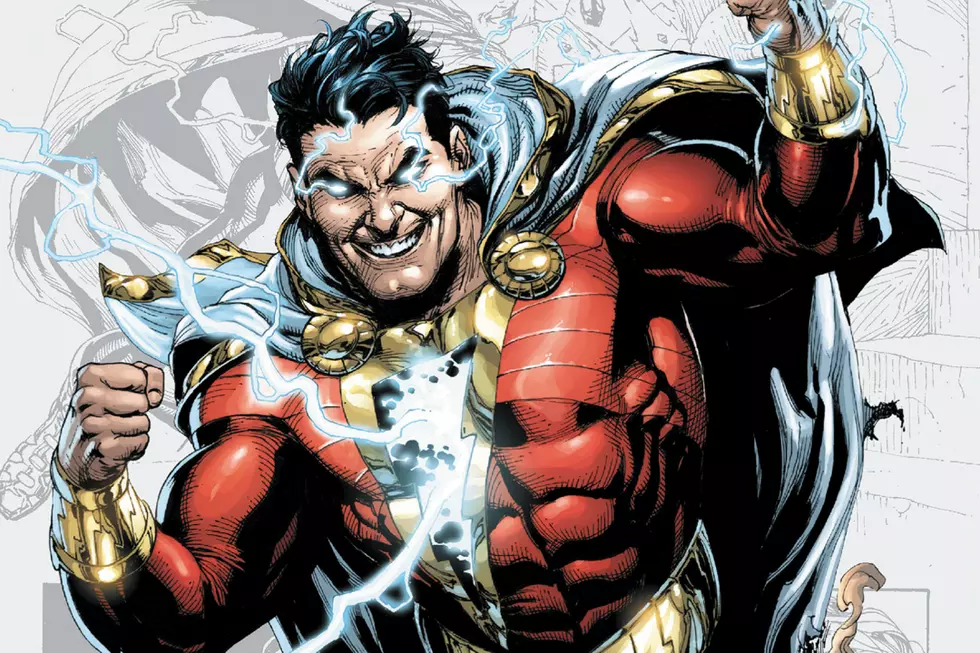 Zachary Levi Chugs a Soda in First Official 'Shazam!' Photo
DC Comics, 'Shazam' Vol. 1
A couple months back, Zachary Levi teased the first look at his Shazam! costume in a promo shot of his superhero sipping a slushy. Now we've got an even better look at the grown-up superhero's red and gold suit and white cape.
Entertainment Weekly shared the first photo of DC's newest superhero in David F. Sandberg's Shazam! The photo shows off Levin's suit, which is inspired by the superhero's look in the DC comics, as he chugs a soda alongside his pal Freddy, played by Jack Dylan Grazer (young Eddie in IT).
Beyond the costume, the new still suggests that the film will be pretty faithful to the comics. As fans spotted on Twitter, the shot is reminiscent of pages from the Shazam! New 52 where Billy Batson's grown-up superhero and his friend Freddy Freeman drink Big Gulps and eat burgers. Check out the comparison below:
The DCEU movie stars Levi as the adult version of Billy Batson, a 14-year-old boy who meets a wizard (Guardians of the Galaxy's Djimon Hounsou) and can transform into a grown superhero when he says titular magic word. Disney Channel star Asher Angel will play the younger Billy. Sandberg said the film will have a "Golden Age superhero vibe," noting that his hero's shorter cape is a "throwback to the original because that's something that sets him apart from Superman or Batman."
Shazam! hits theaters April 5, 2019.
Gallery – DC Movie Easter Eggs: