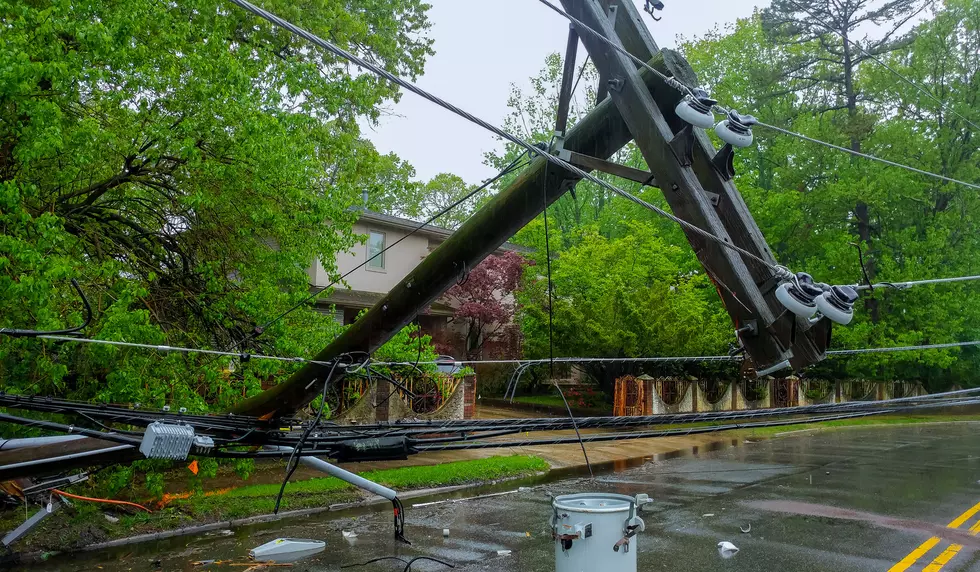 No Power For Over 10,000 SWEPCO Customers After Massive Storms
photovs
The series of massive storms that passed through our neck of the woods late Sunday afternoon and Sunday night left a pretty wide swath of downed trees and power line issues behind it.
Due to the damages, Southwestern Electric Power Company is reporting at this writing at 4:50 am on Monday, April 3 that there are 10,726 SWEPCO customers without power.
SWEPCO's outage map shows that the hardest hit areas include those in West Shreveport, Greenwood and Bethany south to Panola to near DeBerry. Also in the dark this morning is the area on the eastern side of Long Lake in South Shreveport to near Highway 1.
Additional outages are heavy in the area just south of Williamson Way to just south of Crosswood Lane.  Also to the east of 3132 and west of Cargill Park in an area extending from Hollywood south to Meriwether Road. And on South Lakeshore between Page Bayou and Risinger Drive.
If you happen to be one of the unfortunate people awakening to the darkness this morning here's how SWEPCO suggests that you make them aware of your outage.
How to Report, Track Outages
Log on to SWEPCO.com to report an outage and to sign up for text and email updates, including an estimated time of restoration.
Use the SWEPCO app, available for download via the App Store or Google Play.
Call 1-888-218-3919 to report your outage.
Visit SWEPCO.com/OutageMap to find detailed information without logging into your account.
Pics From LSU's Women's Basketball National Championship Win
The 12 Items You Can't Donate To Goodwill
Though Goodwill of North Louisiana accepts lots of different types of donations and they do an amazing job help local people with those donations, there are several items they will NOT accept as donations and these are those 12 items.