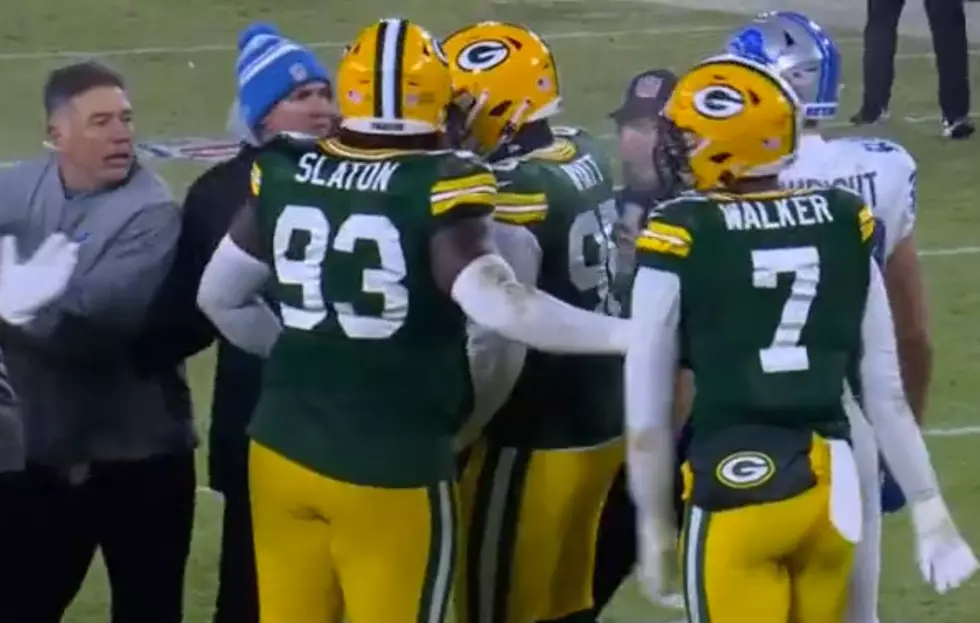 NFL Fans React to Quay Walker's 'Despicable' On Field Act
@MySportsUpdate via Twitter
A member of the Green Bay Packers has drawn the ire of the NFL community after he blatantly pushed a member of the Detroit Lions training staff during Sunday night's NFL game between the two teams. The Packers were flagged on the play and rookie safety Quay Walker was ejected from the game.
As you watch the incident unfold in the video tweeted by Ari Meirov you can see Walker lay hands on a member of the training staff. You can also see the game official throwing a penalty flag immediately. Granted the contact between the player and training staff member was not particularly violent it does fly against league rules and the protocols of good sportsmanship.
To make matters even worse the incident happened in a game on a weekend when the NFL and its fans were celebrating and showing support for the league's athletic trainers because of their swift, life-saving work last Monday night when Buffalo Bills player Damar Hamlin suffered cardiac arrest during a game.
Walker evidently likes to pick on people who are not suited up to play football. In October of last year, Walker was ejected for an incident in Buffalo. In that situation, he was flagged and tossed for shoving a non-uniformed player on the Buffalo sideline.
In both cases, Walker's immaturity and inability to control his emotions on the field cost his team. The Packers lost to Buffalo following the incident in October. Last night Walker's boneheaded play allowed Detroit to keep a game-winning drive alive. They ultimately scored to take a 20 to 16 lead over Green Bay and eliminate the Packers from the playoffs. 
Many fans around the league are calling for Walker to face a stiffer punishment for his actions. Some are calling for him to be suspended. Packers' Coach Matt LeFleur did not mince words when asked about Walker's actions.
Walker was the Packers' first-round draft pick in the 2022 draft. He played his college ball at the University of Georgia. In his rookie year Walker was credited for making 75 solo tackles and one and a half sacks. As of now the NFL nor the Packers have announced any additional disciplinary actions that might be taken against Walker.
10 Highest Paid College Football Coaches in 2022
The 10 highest paid college football coaches will collectively make over $88 million in 2022.