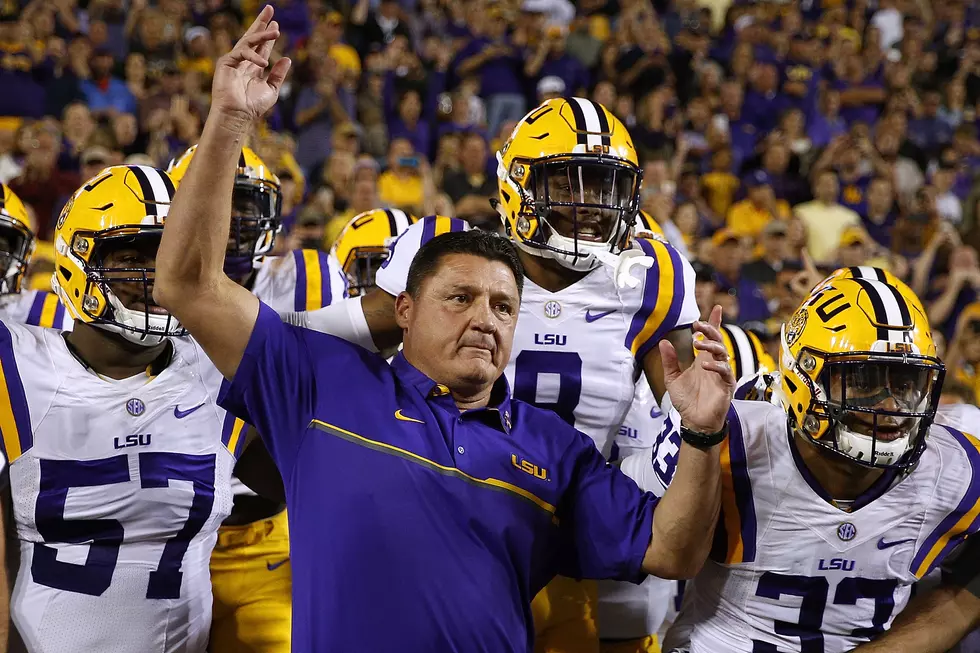 LSU…What Happened In Starkville Last Night?
Getty Images
Let's just say that didn't go as planned. Losing your first SEC road game is never part of the plan, but getting housed by Mississippi State 37-7 shouldn't even be on the menu.
LSU stomped into Starkville like a team that believed they were owed the national spotlight. For the first two weeks of the season, LSU played with what appeared to be a chip on their shoulder, but in hindsight, it may have been entitlement. Now that we've seen what happens when this team plays SEC competition, let's examine what we actually saw against BYU and Chattanooga:
BYU is now 0-3 after getting wrecked by Wisconsin yesterday, 40-6 and Chattanooga is also 0-3 after getting beat by Tennessee-Martin. By the way, Chattanooga is an FCS school, so beating them barley counts on a resume for a team who's supposed to be in the Top 25.
So LSU was able to shut out a bad BYU team in a relative home game in the Superdome, when BYU had to change venues, transportation, and hotels all in less than a week to move the game form Houston to New Orleans. With all of that, LSU's offense could only put up 27 points on them? Then Wisconsin blasts them for a 40-spot?
Sure, LSU looked dominant against an FCS school at home, but if we went back and watched the tape today, after we have seen the Tigers exposed against Mississippi State, would we be able to see the red flags?
LSU came into the game with serious penalty issues, and didn't do anything to help their cause. If you see the above chart, that's 9 flags for 112 yards. Plus some of those too points off the board, and players out of the game. Linebacker Donnie Alexander was ejected for targeting in the second half, and at least two touchdowns were brought off the board for penalties in the first half.
But it wasn't just penalties...
What is this offense? Where is the blame actually to be placed? Is it the line, is it Danny Etling, or is it Matt Canada? Watching tape, you might knee-jerk and say its the line. But sometimes the QB needs to unload the ball sooner, even if it's into the sidelines. But ultimately Offensive Coordinator Matt Canada needs to make adjustments. Especially when he's one of the highest paid OCs in the country. The entire idea of his arrival in Baton Rouge was to create a dynamic offense that could keep up with anyone in the SEC. Clearly LSU is not getting what they're paying for.
On the defensive side, there were miscues, and of course penalties, but honestly, I feel like I want to put that on the offense as well. Because the defense was left on the field WAY too long. There was virtually no third down efficiency from LSU, and nearly 12 minutes difference in time of possession in Mississippi State's favor.
The team will have two weeks to figure things out, they have back-to-back home games against Syracuse and Troy, both very winnable games. But then they have to take their show on the road once more in the SEC, and visit the Florida Gators. If the issues we saw last night aren't corrected by then, expect Danny Etling to be the first to lose his position, but it might not end there.