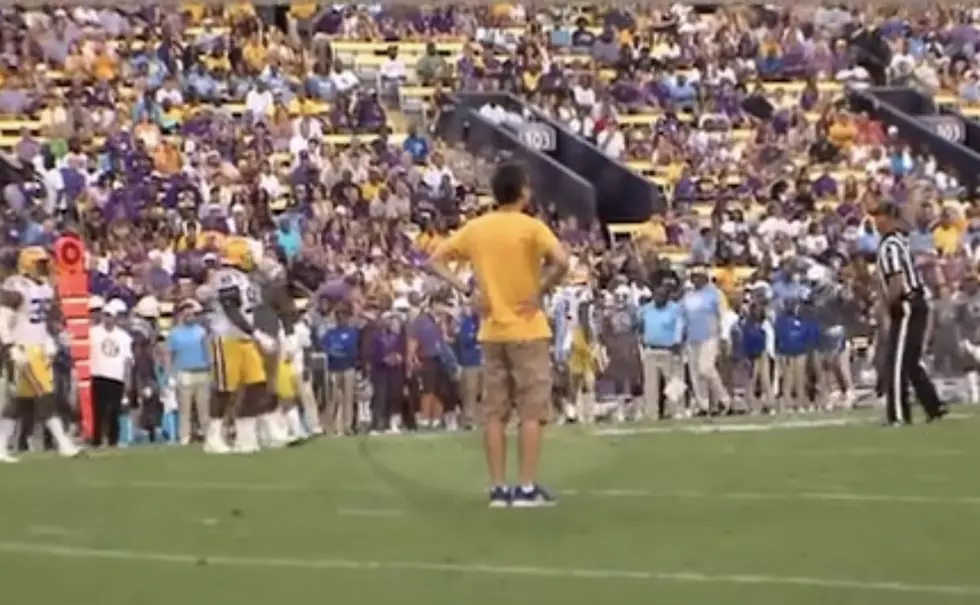 Fan Casually Walks onto Field, Watches a Full Play in the Middle of LSU-Southern Football Game
Twitter, Seth Lewis
There was a lot of excitement in the air for the historic matchup between LSU and Southern, but one fan found himself a little too close to the action.
UPDATE:
According to WAFB, LSU student Marwan Okeil was issued a misdemeanor summons after he allegedly walked out onto the field during Saturday night's football game between LSU and Southern.
For the first time ever, LSU and Southern faced off in a football game in front of a sold-out Tiger Stadium crowd. LSU ended up blowing out the Jags 65-17 but one bizarre play is going viral and it has nothing to do with any of the players on the field.
As Southern was in the midst of an offensive series, a man wearing an LSU t-shirt and some khakis casually strolled onto the field—all the way up to the 10-yard line to take a closer look at the play.
KATC's Seth Lewis was covering the game from the sidelines at Tiger Stadium and couldn't believe his eyes as his camera was rolling.
I mean, this guy was so casual, that he almost looked like he belonged there; except fans aren't allowed to just watch the game from the field like your grandparents standing on the back patio looking out into the horizon to predict the day's weather.
Twitter definitely had the same reaction as this guy stood there, hands on hips while a whole play unfolds during the game.
The cops eventually moved in and his walk on the Tiger Stadium lawn came to an abrupt end.
But not before a bit of resistance, as Tiger fans roared when they realized what was going on.
Police were able to detain the guy, and I'm sure he's facing some type of discipline.
Some folks assumed the guy was either extremely drunk, extremely high, or both.
Others wondered if the man was having a mental issue or was special needs; regardless, he was in an extremely unsafe place in the middle of a college football play and authorities acted swiftly to remove him from the field.
The best reaction may have come from new LSU head coach Brian Kelly, who was actually coaching his first game in Tiger Stadium when this all went down. Check out his face at the end of this alternate angle from WBRZ.
They say a picture is worth a thousand words, but I don't know if any words can convey the picture-perfect reaction from Coach Kelly as this kid gets dragged out of Tiger Stadium.
Welcome to Baton Rouge, coach!