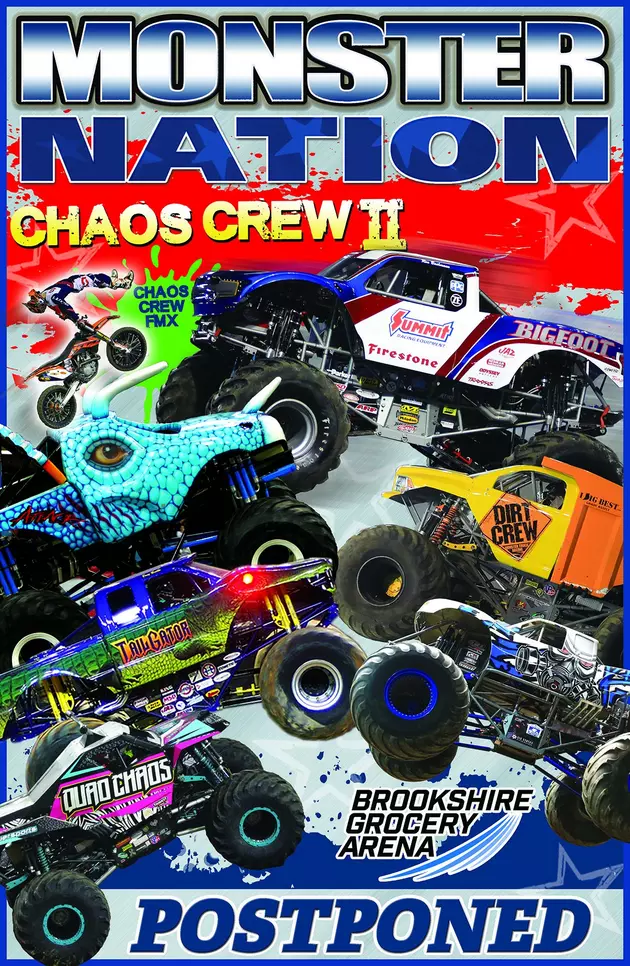 No Monster Trucks After All as Bossier Show This Weekend Is Postponed
From Monster Nation Facebook page
Last week, as the whole world was preparing for a brand new year and the coming of 2022, and more importantly, the end of 2021, here in Northwest Louisiana we were also preparing for the coming of the roar of the monster trucks and the Monster Nation Monster Truck Show.
Well, 2021 has ended and we've officially kicked off 2022, but for monster truck lovers, it's not started the way we had hoped.
Late last week, Monster Nation made this announcement on their Facebook page:
Due to an abundance of caution with the rising COVID cases, we are postponing the January 7-8, 2022 Monster Nation event at the Brookshire Grocery Arena until further notice. Refunds will be available up until 14 days before the newly announced date. We look forward to a new Monster Nation date at the Brookshire Grocery Arena.
As far as we can tell, no future date has been set for the rescheduled event, but once we get that information, we'll be sure to pass it along.
While I don't want to get the wagon ahead of the mule on this one, this announcement is especially scary to me, in that my fear is that it might serve as a precursor to possible other announcements from other promoters and events slated to hit the Brookshires Grocery Arena in the next couple of months including:
Katt Williams: World War III Tour - January 14
Cirque Du Soleil - February 11-13
Reba McEntire - February 26
Morgan Wallen: The Dangerous Tour - March 4
Mercy Me: Inhale (Exhale) Tour - March 5
Nickelodeon's JoJo Siwa D.R.E.A.M The Tour - March 11
While NO OTHER changes to the schedule at Brookshires Grocery Arena have even been hinted, should those announcements come, we'll be sure to let you know.
The Complete 10 Commandments of Living Here in Bossier City
These Were the Most-Played Country Radio Songs of 2021
The Best TV Shows Of 2021