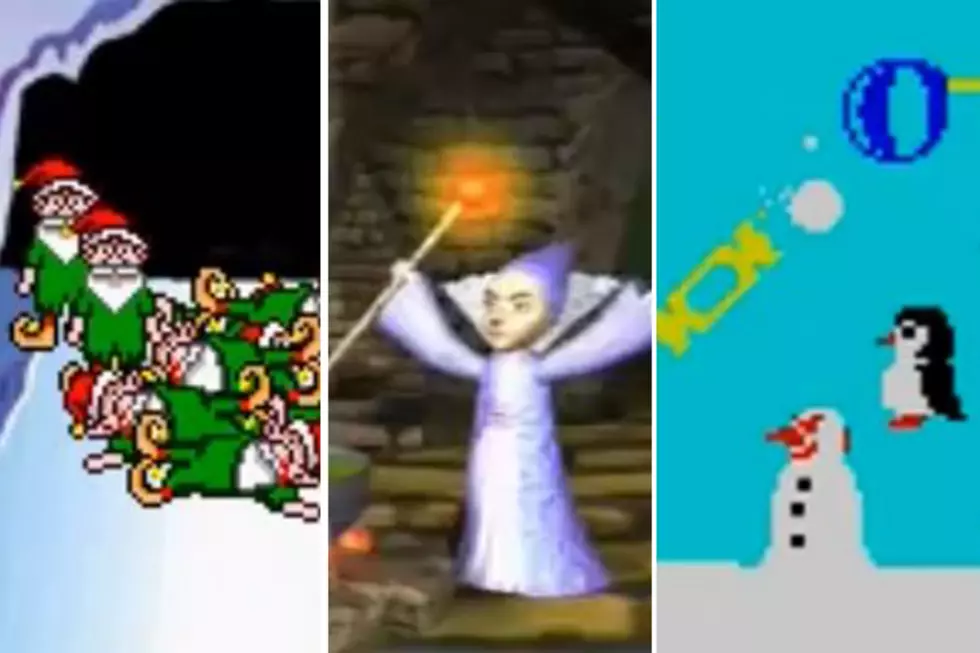 The 10 Craziest Christmas-Themed Video Games
YouTube/Zeppelin Games
Christmas-themed video games might seem like the best way for developers to cash in on the holiday season, but there's a conspicuous lack of these titles on the market. Believe it or not, this is a good thing, because the vast majority of Christmas games to date have been pretty bad and, what's more, inexplicably weird.

How weird? Well, some feature flatulent elves, Santa's evil twin and snowmen who behead themselves. These truly bizarre games are so nutty, they might just spread some unintentional Christmas cheer. Read on and check out our list of the 10 craziest Christmas-themed video games below.
Christmas Nights
Christmas Nights is a two-level expansion of Sega's Nights into Dreams... platformer for the Saturn. Released in December of 1996, this hard-to-find game was given away with the purchase of select Saturn titles and bundled with several gaming magazines.
It follows characters Elliot and Claris as they navigate through Spring Valley and is most notable for its use of the Saturn's internal clock. Depending upon the time of year, environmental elements of the game change. During December, for example, Nightopians appear in elf costumes and the background music is replaced with an instrumental of 'Jingle Bells.' It's perhaps one of the few games on our list that's remembered fondly by gamers.
Christmas Lemmings
When Lemmings was originally released for the Amiga in 1991, it became an immediate success. Naturally, the puzzle game was later ported to a range of other systems and inspired countless sequels, remakes and spin-offs, including Christmas Lemmings.
In this holiday version, players must safely guide self-destructive lemmings as they march across snow-covered landscapes while wearing Santa suits. But that doesn't make sparing them from mass suicide any less grim.
Elf Bowling
Released for the PC in 1998, Elf Bowling pits Santa Claus against elves who have gone on strike. So how does Santa handle this labor dispute? He uses the elves as bowling pins, of course.
But that's not the worst of it. In addition, the elves taunt Santa by mooning him and occasionally a white rabbit appears onscreen and poops across the bowling lane. Oh, and there's also a reindeer you can knock unconscious with your ball.
If that's not bad enough, sequels to the game introduced elves with fart power and Mrs. Claus' pink bra as a gameplay mechanic. There was even a direct-to-DVD Elf Bowling movie in 2007. If wildly inappropriate (and scatological) Christmas humor is your thing, you'll appreciate this series to no end.
Santa's Xmas Caper
Like many of the games on our list, Zeppelin's 1990 Commodore 64 title Santa's Xmas Caper suffers from an absolutely ridiculous premise. In the game, Santa's elves drug his pudding, leaving Saint Nick too hammered to fly his sleigh on Christmas Eve.
So, it's the player's job to take over and engage in a side-scrolling melee where they blast snowballs at evil-looking snowmen, flying trains, penguins, plungers, candy and beach balls (wha??).
By the way, this game is not to be confused with the similarly-titled Santa's Christmas Caper, which was also released by Zeppelin for the Amiga in the same year. In this Super Mario Bros. clone, Santa navigates his way through a magical world known as "Lapland." (No joke.)
Snatcher
Snatcher, the second game written and directed by Hideo Kojima of Metal Gear fame, borrows liberally from movies like 'Blade Runner' and 'Terminator.' It tells the story of Gillian Seed, as he battles an evil group of robots known as "Snatchers" and it throws in a healthy dose of sex and violence to boot. (Check out the game's gratuitous shower scene and graphic image of a dead dog if you don't believe us.)
So what does a mature cyber-punk game about killer robots have to do with Christmas? Ironically enough, it's set during Christmas time and one of Seed's informants even disguises himself as Santa Claus to throw the Snatchers off his scent.
Frosty's Busy Night
We always assumed Frosty had a wonderful life in the North Pole with Santa after his holiday special, but Frosty's Busy Night says otherwise. According to this game, which was published in 1990 for the Commodore 64, Santa brought Frosty back to the North Pole simply to be an errand boy.
As Frosty, players must make their way to the cave of the elves and bring presents back to Santa, avoiding obstacles along the way which have the power to reduce Frosty to a warm puddle.
The game was actually free and came packaged with a copy of 'Your Commodore' magazine, which makes sense, because nobody should ever have to pay for this.
James Pond 2: Codename RoboCod
The second installment in Electronic Arts' James Pond series pits the fishy super agent against his nemesis, who's escaped to the North Pole and taken over Santa's workshop. While there, the villainous Dr. Maybe has taken some of Santa's workers hostage and turned others into evil assistants.
To combat these new enemies, Pond comes equipped with a robotic suit codenamed RoboCod, which gives him strength and agility as he works his way through 50 levels in total. The game also heavily touts Penguin Biscuits -- a real-life snack in the UK -- and is one of the first titles to use in-game advertising. Because, you know, nothing says Christmas more than product placement.
Daze Before Christmas
In this 1993 game, Santa must reclaim his workshop, which has been taken over by a sinister team of baddies. To do that, the jolly old elf must collect presents and battle foes such as evil toys, giant rats and snowmen, who decapitate themselves and use their heads as weapons.
But even more surreal, Santa can collect a power-up -- a cup of coffee, strangely enough -- which transforms him into a horned, evil creature known as "Anti-Claus," who, of course, uses his bag of toys as a bludgeon.
Special Delivery: Santa's Christmas Chaos
Released in 1984, this 8-bit game once again finds Santa unprepared to do his job on Christmas Eve. Turns out, Santa has overslept and has a mere five hours to deliver presents all over the world.
So, the intrepid Saint Nick climbs aboard his sleigh (which has no reindeer, by the way) and collects presents dropped by angels while avoiding those dropped by demons. Then, he goes from house to house delivering the presents while avoiding killer children, who, for some reason, can make him explode with a single touch. If that isn't enough to ruin anybody's Christmas, we don't know what is.
Santa Claus Saves the Earth
With only one day left until Christmas, Santa prepares for a long night of delivering presents to all good girls and boys. However, a wicked fairy named Nilam has other plans and transports him to a magical land, holding him there against his will.
Now Santa must escape and battle a random army of strange enemies -- cowboys, cavemen, torch-wielding minotaurs, etc. -- with snowballs and what looks like a tomato gun. Hey, we never said this 2002 game for the PlayStation One made any sense, but it is Christmas-y in an exceedingly weird way.