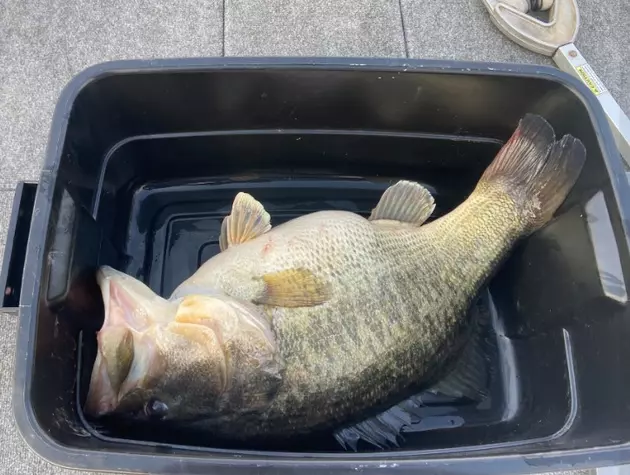 Another Record Size Bass Caught From Bussey Brake in Louisiana
Photo from LDWF
Local bass fishermen might recall last year's Major League Fishing tournament on Bussey Brake, just north of Bastrop in Northeast Louisiana.
Most of us had never even heard of this 2,200 acre reservoir, which is the Louisiana Department of Wildlife and Fisheries newest Wildlife Management Area, prior to the MLF professional anglers hitting the water.
However, MLF Pro Randy Howell saw to it that the world would soon know about the monsters lurking below the surface of this fertile Louisiana water.
On Tuesday, February 9, 2022, Randy Howell landed a monster 10 pound 11 ounce bass from Louisiana's Caney Creek, making it the largest bass ever caught in an MLF tournament.
Then, one day later, Howell set the hook on another monster. One that would forever put Bussey Brake on bass anglers' radars. The bass that came across the bow of Howell's boat weighed an astonishing 12 pounds 14 ounces and broke the MLF record that Howell himself had set the day before.
Evidently, those monster fish continue to be reeled in from Bussey Brake as the Louisiana Department of Wildlife and Fisheries has just announced that for the second time in a month, the lake record for largemouth bass has been broken.
According to the LDWF, Robert Bush, pictured above, just landed a 15.36 pound largemouth bass, making it the new lake record for Bussey Brake and the fish also ranks at the eight largest bass ever caught in Louisiana waters.
This new record follows the 13.58 pounder landed by Todd Herrington of Collinston, who's lake record lasted literally only weeks.
The LDWF accredits most of Bussey Brake's monster bass production to the large number of pure Florida strain brood fish that were provided by LDWF's own Booker Fowler fish hatchery, in combination with excellent habitat.
For more info about Bussey Brake and other top-producing bass lakes in Louisiana, check out this article from our most recent issue of Louisiana Conservationist.
Things Shreveport/Bossier People Miss Most About Childhood
A West Monroe Bus Makes for an Epic Airbnb