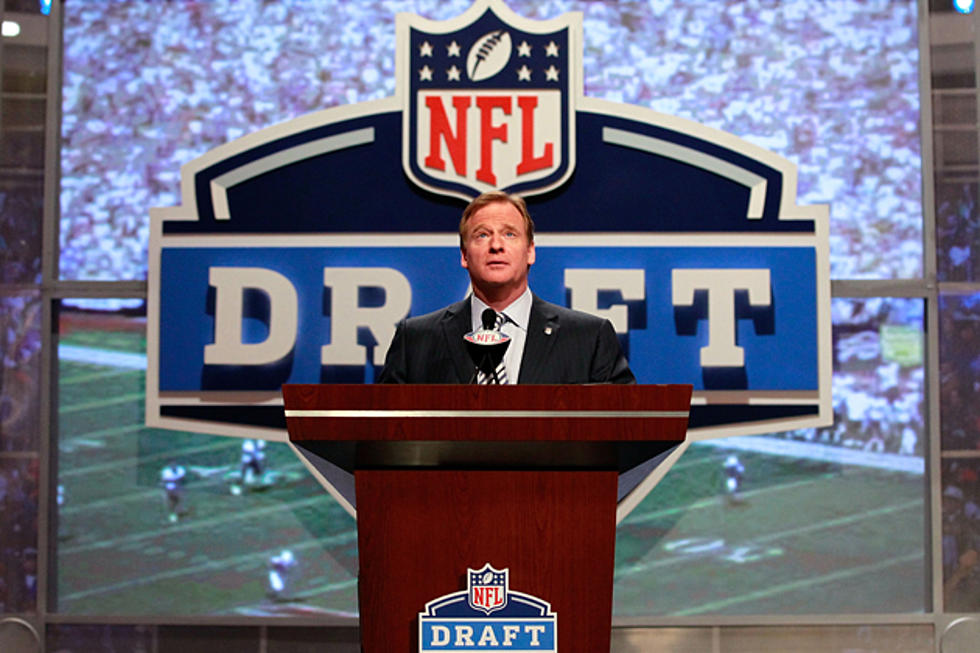 The 1130 The Tiger 2018 NFL Mock Draft – Part Two
Photo by Chris Trotman/Getty Images
Tonight is the first round of the NFL Draft, and everyone is putting together mock drafts to celebrate. We're no different here at 1130 The Tiger. Tim Fletcher has been talking heavy draft coverage all week, and we're going to take some of his work, and mix it in with the rest of the Tiger staff, to come up with our best shot at a mock draft.
We will NOT be including trades. We might suggest spots for trade, and honestly, the trades that might happen will change the outcome of picks. But we're going to give it  a shot and see how close we can come:
11 Miami Dolphins - Tremaine Edmunds, LB Virginia Tech 
While we were talking yesterday, Tim Fletcher brought up how young Edmunds is. He's only 19-years-old. Meaning you're getting a guy who will have 2-3 extra years on his NFL career over the players around him.
Miami has a possible need for a quarterback, so with names like Josh Rosen falling in our draft, this could also be a huge landing spot for him.
12 Buffalo Bills - Josh Allen, QB Wyoming 
Buffalo may trade up to try and make this pick really early. But the way this is shaking out here, he's falling to them now.
Allen is the kid they want. They love his arm strength, history playing in the elements, and size. They really need a QB, and think he's their answer.
13 Washington Redskins - Vita Vae, DT Washington
Be careful here. Washington needs defensive help, but they're also the team who would like to blow up the Cowboys party in their house. Watch for them to steal the wide receiver or linebacker the Cowboys want.
But Vae would be a Top 5 or Top 10 pick in any other year without quarterback fever.
14 Green Bay Packers - Josh Jackson, CB Iowa
The Packers do have a need for a wide receiver, and since they're all there, they could take whichever they want. But, their defense has been struggling since their Super Bowl run years ago. Fixing the back side of the defense is extremely important in an NFC North where offenses are getting better.
15 Arizona Cardinals - Josh Rosen, QB UCLA
This would be the PERFECT scenario for Arizona. Rosen fits what they do, and they know that. They might need to trade up to make this happen, but if this situation played out, they'd be over-the-moon.
16 Baltimore Ravens - Rashaan Evans, LB Alabama
Ozzie Newsome leaves the Ravens the way he found them, with a strong defense built around a strong linebacker.
17 Los Angeles Chargers - Da'Ron Payne, DT Alabama
Could you imagine a Chargers defensive line with Payne in the middle, and Bosa on the end? Quarterbacks beware.
18 Seattle Seahawks - Harold Landry, DE/OLB Boston College
The Seahawks have lost so much on defense, the rebuild starts now with another athletic freak.
19 Dallas Cowboys - Calvin Ridley, WR Alabama
If Jerry has to stay here, and he doesn't swing some deal for Odell Beckham, Jr, the team has to take the biggest name at receiver in this draft.
20 Detroit Lions - Derrius Guice, RB LSU
OK, so this is probably our biggest long shot. But the Detroit Lions haven't had a 100 yard rusher in a game since 2013. It was actually Reggie Bush on Thanksgiving...that's how long ago it was.
They've added LeGarrette Blount in the off season, but Guice is better than Blount has ever been in his career.
The Lions might step out and hit a home run here.
21 Cincinnati Bengals -  Marcus Davenport, DE UT-San Antonio
He's a freak athlete, and Cincy is going best player available here.
22 Buffalo Bills - Frank Ragnow, OL Arkansas
Now that they have their quarterback, they need to protect him.
23 New England Patriots - Jaire Alexander, DB Louisville
What happened in the Super Bowl? What happened with Malcolm Butler? If the Pats stay here, look for them to try and fix that mistake here.
24 Carolina Panthers - DJ Moore, WR Maryland
Fletcher likes this pick. Carolina getting more weapons of offense is an issue for the rest of the NFC South
25 Tennessee Titans - Isaiah Wynn, OL Georgia
Protect Marcus Mariota. END.
26 Atlanta Falcons - Taven Bryan, DT Florida
During the Tim Fletcher Mock Draft, there was some debate here. Fletcher wants Maurice Hurst from Michigan in this spot, while Adam Hester called for Bryan. Hester didn't want to fight the pick, but I will. Bryan is the more obvious pick, and is going to cause some issues for teams like the Saints and Panthers.
27 New Orleans Saints - Lamar Jackson, QB Louisville
Don't hate me, or us...can't really be "us", Fletcher's Mock Draft had Da'Ron Payne going here. But Payne probably doesn't last this long.
There's a big chance the Saints could move WAY up in the draft to do this, or they could balk at the price, and move back as far as they can to get the second round pick they're missing. But if this exact scenario plays out, they'll be dancing.
The Saints have spent a lot of time with Jackson, and feel like they could be the perfect spot for him to grow.
28 Pittsburgh Steelers - Sony Michel, RB Georgia
I think they'd rather have Guice, but with him off the board, they have to take Michel. But that's not a bad thing.
29 Jacksonville Jaguars - Dallas Goedert, TE South Dakota State
He appears to be a freak, and they're going to need so much help catching passes, they're going to take what they can.
30 Minnesota Vikings - Kolton Miller, OT UCLA
They went out to get Kirk Cousins, now they move to protect him
31 New England Patriots - Mason Rudolph, QB Oklahoma State
If they don't make a huge trade up to get someone like Lamar Jackson, they're going to get a quarterback here.
32 Philadelphia Eagles - DJ Chark, WR LSU
Fletcher put this one down as a "fun" pick, but it actually makes a lot of sense. In the draft we've put together, there are still players like Will Hernandez, James Daniels, Hayden Hurst, and Courtland Sutton on the board, but Chark had one of the fastest 40 yard dash times at the combine, he's got freakish numbers in all the other drills, and has SEC pedigree.
Chark makes an already great Eagles team even better.