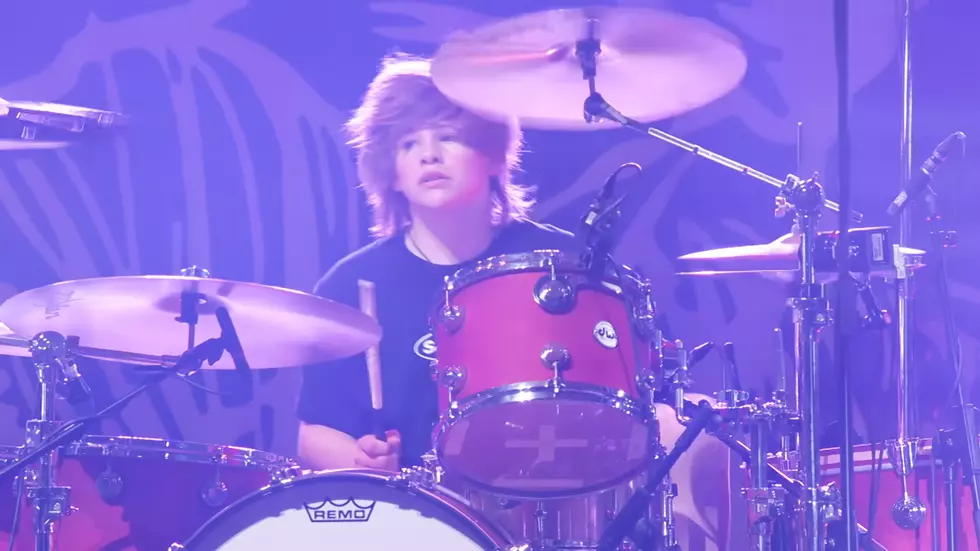 Taylor Hawkins' Son Shane Playing Drums on 'My Hero' During Tribute with Foo Fighters Will Have You in Tears
YouTube, MTV
They say that music has the power to move us to tears, and this emotional Foo Fighters tribute to their late drummer Taylor Hawkins featuring his son, Shane is living proof.
Even if you're not a fan of the Foo Fighters or even aware of who they are, this is must-watch content.
In case you're unaware, the Foo Fighters lost their drummer Taylor Hawkins back in March while touring. Hawkins died suddenly, sending a shock through the music industry and pop culture in general.
The Foo Fighters announced there would be two shows dedicated to Hawkins' musical legacy.
As one of the most respected and beloved figures in modern music, Taylor's monolithic talent and magnetic personality endeared him to millions of fans, peers, friends and fellow musical legends the world over. Millions mourned his untimely passing on March 25, with passionate and sincere tributes coming from fans as well as musicians Taylor idolized. The Taylor Hawkins Tribute Concerts will unite several of those artists, the Hawkins family and of course his Foo Fighters brothers in celebration of Taylor's memory and his legacy as a global rock icon—his bandmates and his inspirations playing the songs that he fell in love with, and the ones he brought to life.
The first of two tribute concerts was held on Saturday (Sept. 3) at London's Wembley Arena—and whether you're a Foo Fighters fan or not, this is one incredible performance.
The band invited a "very special guest up" to perform a song with them and Hawkins' 16-year-old son Shane joined them on stage to sit in for his late father on the drums for an emotional rendition of "My Hero."
We have one more drummer that's going to come up and play with us, and let me tell you, I don't think I've ever seen anyone hit the drums as hard as this person. Beyond that, he's a member of our family. He needs to be here tonight with all of us, and I think it makes sense that he's going to come up and play with us tonight.
What happened next is a performance that will bring tears to your eyes.
And Dave Grohl wasn't lying; Shane Hawkings played the absolute hell out of those drums. The powerful video has been shared millions of times, and as hard as Shane was banging on those drums during "My Hero" it's almost as if he wanted to make sure his dad could hear him.
Something tells me he did.
See more of the first tribute show here via Classic Rock 105.1.
The 40 Best Cover Songs by Rock Bands