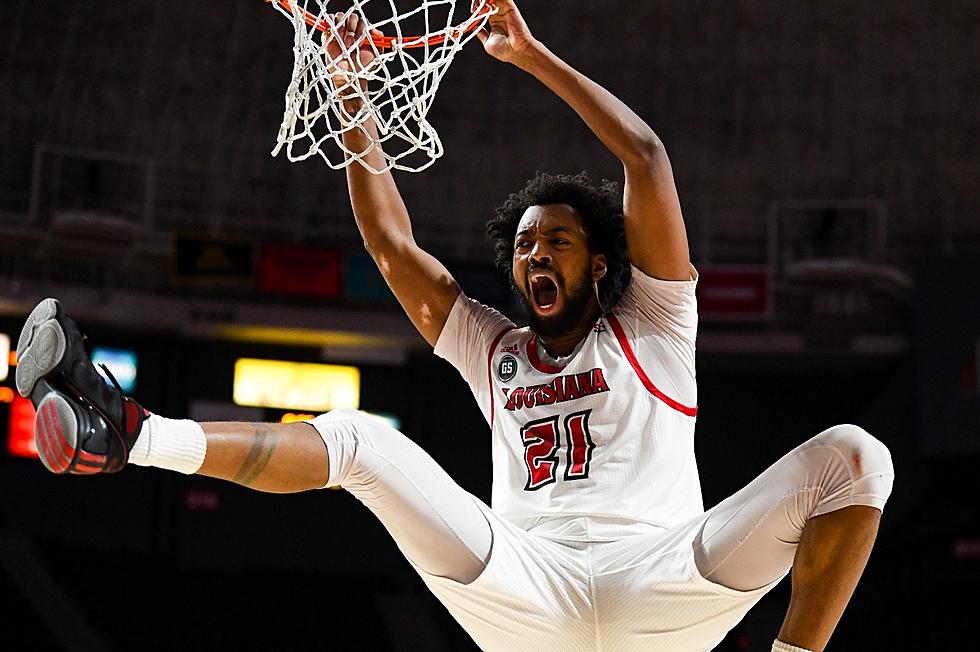 Sun Belt Postseason Basketball Awards Arrive: Two Cajun Stars Named to All-SBC Team
via ragincajuns.com
The Sun Belt announced its men's basketball post-season awards for the past season today ahead of the Sun Belt Tournament set to begin this week.
Taevion Kinsey from Marshall earned the prestigious Player of the Year award, averaging 22.2 PPG and 5.4 assists per game.
Regardless, I know more than a few people who think this award should've gone to a certain Cajun forward whose name rhymes with "Gordon Down", but don't worry, the Cajuns weren't completely overlooked on this list.
Defensive Player of the Year went to Kevin Samuel from South Alabama. He recorded 2.5 blocks per contest, and ranks top 40 nationally in rebounds.
Austin Crowley, transfer from Ole Miss who landed at Southern Miss, nabbed Newcomer of the Year, and Mitch Handlogten from Marshall took home the Freshman of the Year trophy.
But now, what you came to see.
The All-Sun Belt basketball team rosters for the 2023 season are:
All-Sun Belt First Team
Jordan Brown, Louisiana (Jr., F – Roseville, Calif.)
Taevion Kinsey, Marshall (Sr., G – Columbus, Ohio)
Andrew Taylor, Marshall (Sr., G – Corbin, Ky.)
Isaiah Moore, South Alabama (Gr., G – Temple Hills, Md.)
Austin Crowley, Southern Miss (Jr., G – West Point, Miss.)
All-Sun Belt Second Team
Andrei Savrasov, Georgia Southern (Sr., F – St. Petersburg, Russia)
Terrence Edwards, James Madison (R-So., G/F – Atlanta, Ga.)
Greg Williams, Jr., Louisiana (Sr., G – Lafayette, La.)
Felipe Haase, Southern Miss (Gr., F - Osorno, Chile)
Zay Williams, Troy (Sr., F – Birmingham, Ala.)
All-Sun Belt Third Team
Donovan Gregory, App State (Sr., F – Charlotte, N.C.)
Jamari Blackmon, ULM (Sr., G – Hoover, Ala.)
Chaunce Jenkins, Old Dominion (So., G – Newport News, Va.)
Kevin Samuel, South Alabama (Gr., C - Codrington Village, Barbuda)
DeAndre Pinckney, Southern Miss (Sr., F – Carol City, Fla.)
Mason Harrell, Texas State (Sr., G – Midwest City, Okla.)
For Brown, this is his first first-team nod for the conference, although he was named second team All-SBC last year as well as landing a spot on the All-Sun Belt Tournament squad. Greg Williams was also named to the same All-Tournament team last year, but this is his first all-conference honor.
However, it's clear that these guys aren't too concerned about the accolades. They're playing to win the Sun Belt and get a bid into the Big Dance. They'll get their chance in the first game from Pensacola, coming to you Saturday, March 4.
Every NBA All-Star in New Orleans Hornets/Pelicans History
Since the Hornets came to New Orleans in 2002, nine different players earned All-Star status while with the team, with a total of 18 selections overall for the Pelicans franchise.
Pro Athletes From the Acadiana Area
Louisiana has produced some of the best pro athletes in the world, especially in Acadiana.
Worst New Orleans Saints Trades of All Time
A rundown of the absolute worst New Orleans Saints trades of all time.