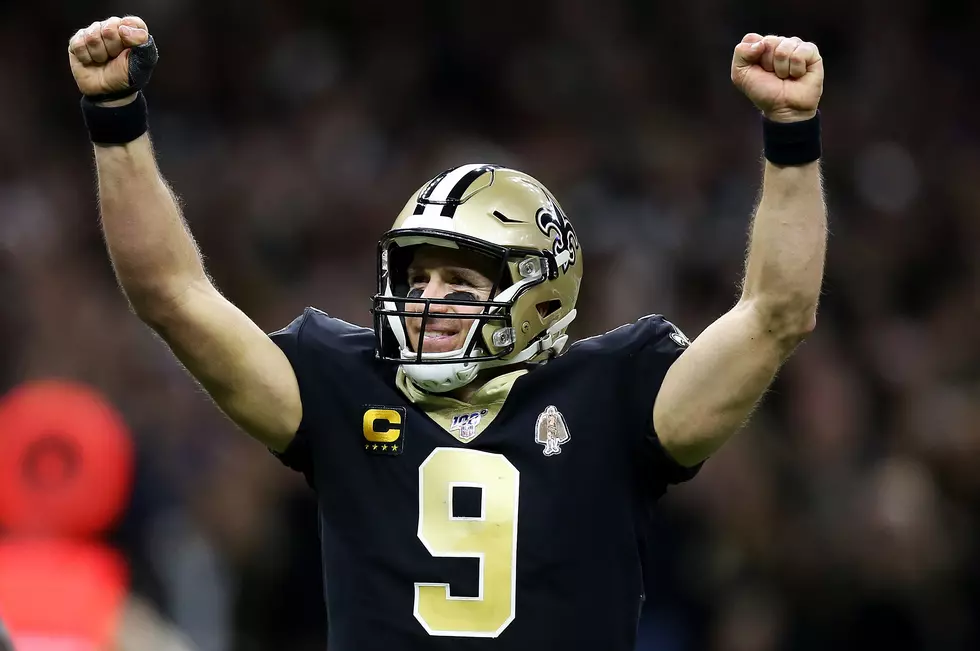 Saints Dominate Colts 34-7 Behind Drew Brees' Record-Breaking Performance
Photo by Jonathan Bachman/Getty Images
Enter your number to get our free mobile app
New Orleans Saints quarterback Drew Brees set two NFL records on Monday night, adding another legendary chapter to his storied career as the Saints rolled over the Indianapolis Colts 34-7.
Brees surpassed Peyton Manning for most touchdown passes all-time (540) in the third quarter, connecting with Josh Hill for his third TD throw of the game.
"I could think of no better guy to catch it than Josh Hill," explained Brees of the record-breaking play. "He's one of our workhorse guys who does plenty of the dirty work blocking and everything else. He's such an integral part of our team."
On the following drive, Brees added career touchdown pass 541 when he hooked up with Taysom Hill for a 28-yard score, that put the Saints up 34-0 before the 4th quarter.
Brees' new TD record was celebrated by his teammates and the Superdome crowd, but he still has work to do, as Patriots quarterback Tom Brady is 3 touchdowns behind Brees with 538.
"To be able to share something like this with my team, the Who Dat nation, everyone in the Superdome, my family and friends," said Brees of the TD record. "You don't really think about these things, especially when you first enter this league. I can remember as a young player, just trying to become a starter someday maybe. Maybe, be able to make a little bit of an impact. It's hard to believe 19 years later, having a chance to do some of these things."
Drew also set a new NFL record for completion percentage in a game at 96.7% (minimum 20 attempts), showing off his precision with a 29 of 30 performance for 307 yards and 4 scores.
"You always think about the one you miss," said a smiling, but critical Brees. "If I just set my darn feet and throw it to the running back, it's 30 for 30. That one may haunt me for a little while."
While it may "haunt" him, he isn't letting it take away from his enjoyment.
"These moments are special because of the people that are on this journey," explained Brees. "I love my team. I love our fans, and I love the opportunity that we have."
Brees and the Superdome crowd thought he had the NFL record late in the 2nd quarter when he connected with Tre'Quan Smith for a score, but Smith was penalized with a horrible offensive pass interference call, leading to a chorus of boos from the Who Dat nation in attendance.
"He's a tireless worker," noted Saints head coach Sean Payton of Brees. "The attention to detail (is key)...It's a credit to how he trains, not just in season but in the offseason. There's a lot of sacrifices that go into the preparation to play at this level the way he is at his age (40 years old)."
Brees' favorite target, wide receiver Michael Thomas, led the way with 12 receptions for 128 yards and 1 touchdown, setting an NFL record of his own. It was his 8th game with 10+ receptions this season, the single-season record in the Super Bowl era.
Thomas now has a league-leading 133 receptions. With two games to play, he needs 11 receptions to surpass Marvin Harrison's single-season record of 143 catches.
The Saints improve to 11-3 with the win, tied for best in the NFC with the Seattle Seahawks, Green Bay Packers and San Francisco 49ers.
If the Saints win out, they'll still need some outside assistance to earn a bye. Due to tiebreakers, if the postseason started today, New Orleans would be the #3 seed.
Next up for the Saints, a trip to Nashville this Sunday for a matchup with the Tennessee Titans (8-6). Kickoff is set for noon.