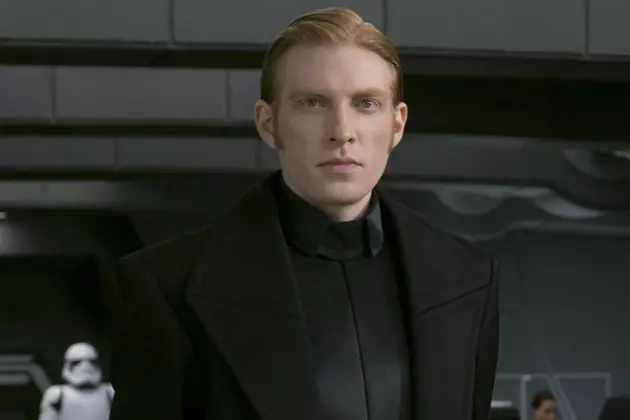 Russian Bots Targeted 'The Last Jedi' to Save General Hux
Lucasfilm
Although Russian bots are typically associated with real-world politics, it turns out that they're also heavily invested in fictional politics, too — even those in galaxies far, far away. In the new documentary The Director and the Jedi (out now with the digital release of The Last Jedi), director Rian Johnson spends a few minutes discussing a curious development in the Star Wars franchise: Those pesky Russian bots (can we call them droids in this instance?) were staging a social media campaign designed to save…General Hux, of all people.
Film School Rejects has the full scoop on the new 90-minute documentary directed by Anthony Wonke, which covers the making of Star Wars: The Last Jedi. The most interesting — and surprising — part of the film is the segment where Johnson goes to a production meeting and talks about the "amazing" Russian bot problem: "There's a coordinated effort by these Russian accounts," he says. "Hundreds of them."
But these bots were hitching their wagon to a very bizarre candidate in Domhnall Gleeson's General Hux — the petulant, weaselly antagonist whose bickering with Kylo Ren provided some of the funniest moments in The Last Jedi. Can't fault them for backing an underdog, I guess:
Using the hashtag #HuxLive, the bots — in their typical telltale broken english — were running a campaign to interfere with the trilogy's narrative to ensure that Hux makes it out alive. What are they planning to use him for?! That guy doesn't have the highest security clearance in the First Order, you know. To be fair, I guess he'd be more easily swayed by Russian meddling in a galactic election than Kylo Ren.
Star Wars: The Last Jedi is currently available for digital purchase.