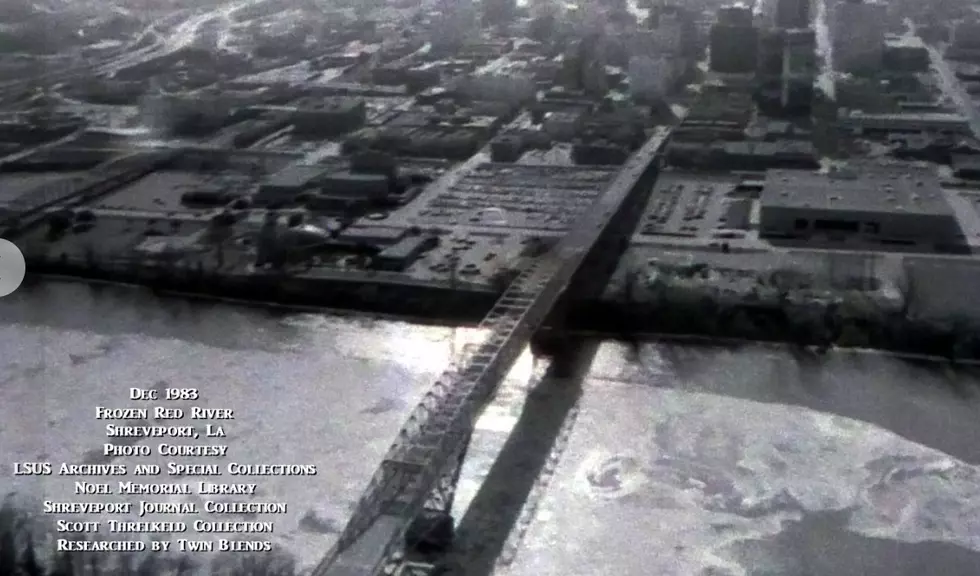 Remember When the Red River Froze in Shreveport?
Photo Courtesy of LSUS Archives
Really cold weather is headed for Shreveport later this week. We are going to be in the deep freeze Friday morning when the temperature dips into the teens.
This reminds me of all the stories about December of 1983 in Shreveport when the Red River froze.
That month was the coldest on record in the Shreveport Bossier area.
From the book Outstanding Weather Phenomena In the ArkLaTex: An Incomplete History, by Billy Andrews:
"A record cold wave followed with very cold temperatures sweeping southward across the ArkLaTex, producing the coldest arctic air since December 1963. December 1983 ended up being the coldest of record"
Andrews says things got worse:
"Temperatures remained at freezing or below for 138 consecutive hours from the 21st through the 27th"
That's when things got really crazy.
Cross Lake also partially froze during this deep freeze across northwest Louisiana.
The Red River froze from bank to bank. Huge chunks of ice formed north of the city and they began floating downstream as the area was gripped by a major cold front. Nothing was melting. It created an ice jam on the Red for a couple of days.
This phenomena led to some unusual calls to police including the rescue of one man who thought it would be a good idea to put his boat in the river for a little joy ride. He got stuck amidst the ice.
This might give you an idea of how cold it was in 1983. The high on December 24th was just 20 and that was also the high on Christmas Day. On December 26th, the temp climbed to 28, but it was still too cold to provide any relief.
A Look Back at the Winter Storm of 2021
Shreveport and the entire region got a blast of snow and ice that brought the community to a screeching halt a year ago.
The 13 Hottest Temperatures Ever Recorded in Shreveport
While we routinely see summertime highs of just over 100 here in Shreveport, only once have we ever reached a high of 110. Check out the 13 highest temperatures ever recorded here in Shreveport.