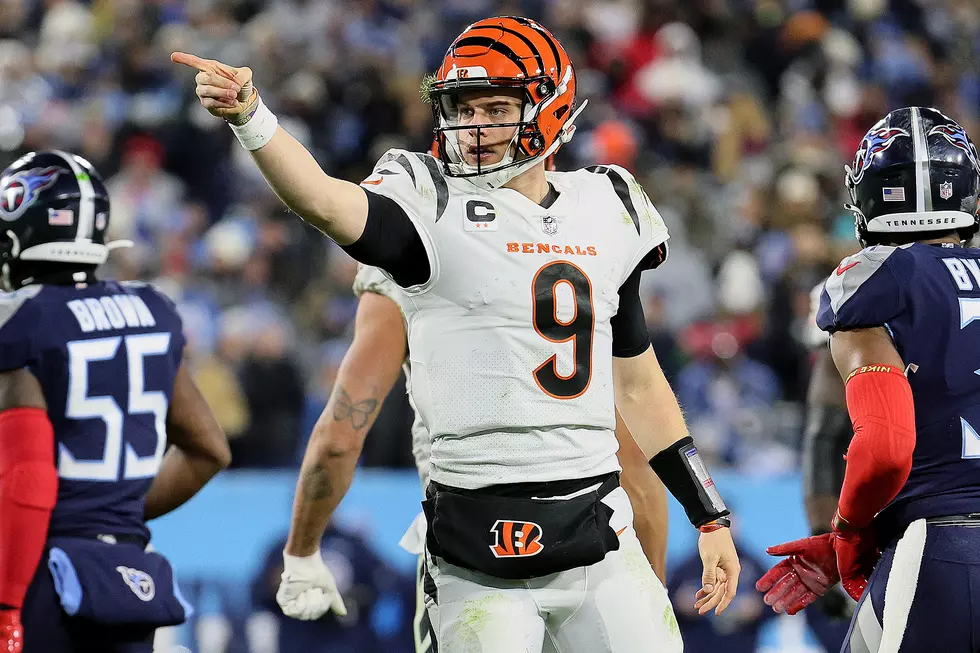 LSU Legend Joe Burrow Honored With Bengals King Cake
Photo by Andy Lyons/Getty Images
It's hard to believe anyone from Ohio would know much about Mardi Gras or King Cake... but there's a bakery in Cinncinatti that seems to have the right idea.  Busken Bakery in Cinncinnatti is offering a King Cake, commemorating Joe Burrow and the Bengals recent win over Baltimore to advance in the playoffs on their way to a second straight Super Bowl appearance.
In a nod to Burrow's time in Louisiana, Busken has created the "King of the Jungle" King Cake, complete with a "Baby Joey."   Busken describes the special edition king cake as a "Cinnamon King Cake, Orange and Black Sugar, Baby Joey, Beads, Football and Helmet."
The reaction on Busken's Facebook page is mostly positive from Saints fans:
That's awesome ! Wish y'all well on your path to the Super Bowl. Sincerely a Saints fan. GEAUX Joey B & Ja'Marr Chase. Who Dat / Who Dey !
From Louisiana, I love this!! LOVE Burreaux, love Chase and  excited for Cincinnati and the Bengals! I love that some "Louisiana culture" is being celebrated! WhoDey!
Some comments are critical of the Bengals chant, "Who Dey!" which brings up the debate, who had the chant first?  New Orleans Saints fans' "Who Dat?" or Cinncinatti Bengals cry of "Who Dey?"
A quick search on the history of each is interesting.  The first acknowledged use of Who Dey dates back to the early '80's.  There's even a tie-in to a local beer brewery.  Beer vendors would shout "Hudy!"  Which eventually led to "Who Dey!"  Their commercials from the 70's were pretty funny.
The origins of "Who Dat" can be traced back to Southern University going back to the 60's.  According to the website section600.com:
It's largely debated down south Louisiana what school it started at first. Most settle on Southern University in Baton Rouge in the 1960's. Two high schools, St. Augustine and Patterson, quickly picked up the chant and used it next, in the early 1970's. By the late 1970's, Alcorn University and Louisiana State University were using the chant regularly. The chant was also gaining popularity all over and spreading across the state.
Regardless of who was first, there's enough spirit to go around!  And kudos to Busken for acknowledging the Louisiana tie-in with Joe Burreaux!  Who Dey!
How Much Are Crawfish in Shreveport?
Crawfish have arrived and we have been checking the prices for you. These are the prices we found on January 17.
Every New Orleans Saints Starting QB Since 2000
This list counts only regular season starts for quarterbacks of the New Orleans Saints since the year 2000. Though in that time, there have only been two quarterbacks to start playoff games for the Saints. Aaron Brooks and Drew Brees.