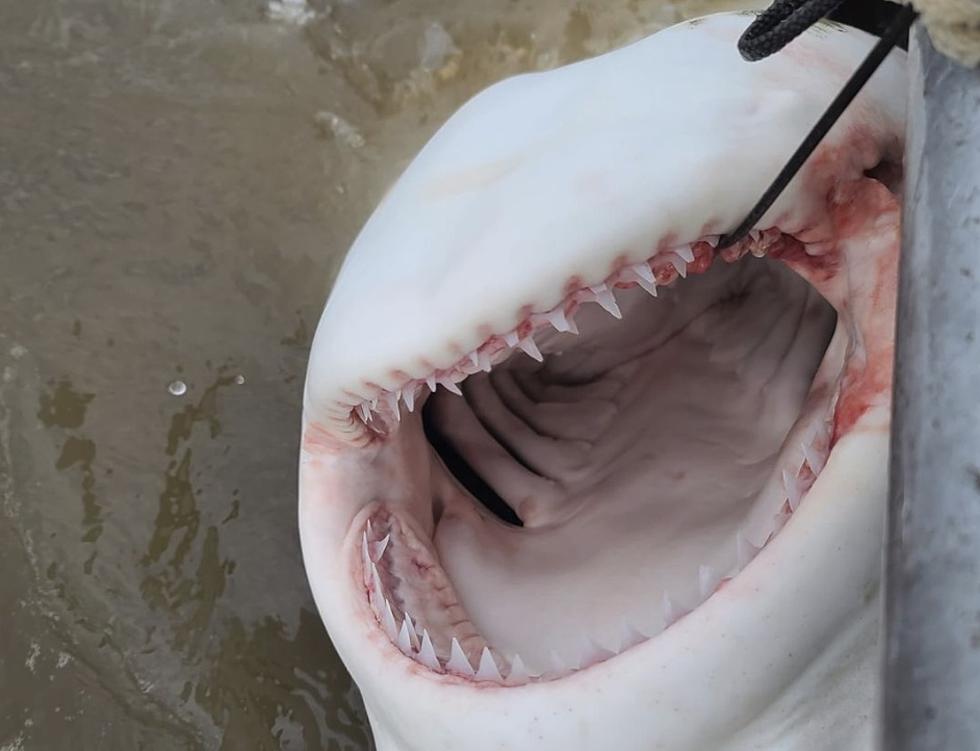 Local Fisherman Catches a Large Bull Shark in Vermilion Bay
Facebook, Douglas Olander
A local fisherman found quite the surprise on the end of his hook while fishing in Vermilion Bay.
Douglas Olander made the rare catch of a large bull shark in Vermilion Bay—and by the looks of the photo he posted to his Facebook, this is no baby shark.
Doug says the bull shark was "well over" 7 feet long and even though he released it back into the water, his photo caught the attention of Don Meaux, who posted how special this catch was on a Cypermort Point Community Group Facebook Page.
FINALLY THE PROOF I HAVE BEEN LOOKING FOR: Thanks to Douglas Olander he hooked and captured this photo of a Bull Shark he caught in Vermilion Bay way over 7 feet long! For many years I have been reading up on the travels of Bull Sharks in shallow brackish bays such as Vermilion Bay. The largest I have ever caught was maybe 4 feet long but no where close to over 7 feet long. Bull's have been captured up to 10 feet long!
The Bull Shark is responsible for more shark attacks in the US than Mako's, Tiger's and Great White Sharks combined. During the spring months the pregnant females swim into shallow brackish bays and some swim into fresh water bays and rivers and have their young live and then go on a feeding frenzy in the bays and rivers and by mid to late May they start heading back offshore while the young ones stay in the shallows. Bull's have been captured as far north as Illinois in the Mississippi River!
Commercial fisherman have been catching Bull Sharks way up in the Atchafalaya River in their nets for many years! So far to my knowledge there has not been any shark attacks in Vermillion Bay.
Meaux's post caught the eyes of our local media partner and superstar chief meteorologist Rob Perillo who shared the huge shark on his official Facebook page as well.
Since being shared on Perillo's page, Olander's photo of the shark has gone viral with well over 500 shares and nearly 200 comments.
Just another reminder to be safe when your out in local waters.
LOOK: 30 fascinating facts about sleep in the animal kingdom