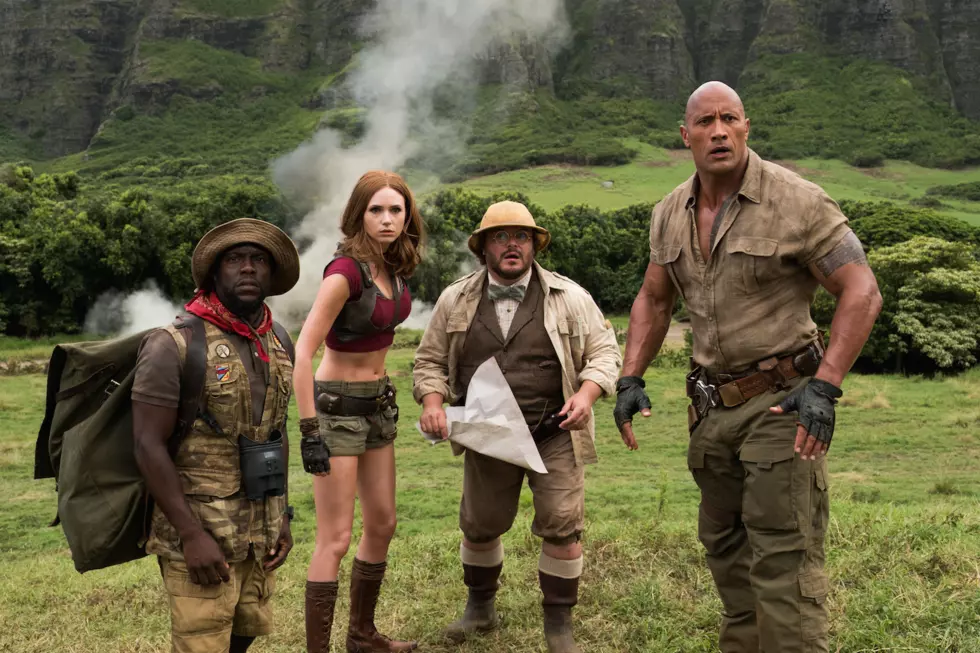 'Jumanji: Welcome to the Jungle' Is Getting a Sequel That May Compete With 'Star Wars: Episode IX'
Sony
Who knew that people would go nuts for a Jumanji reboot/sequel? The Dwayne Johnson-led Jumanji: Welcome to the Jungle has continued to climb its way to the top of the box office and stay there for a consecutive three weeks. Personally, I didn't think it was all that fantastic, but the people (and their wallets) have spoken: there is life in this 23-year-old franchise, and that means sequels. Another jungle adventure is on the way, and Star Wars better watch out.
While no official announcement has been made by Sony, studio chief Tom Rothman spoke to The Wall Street Journal (h/t The Playlist) and revealed that he hopes to have a sequel to Welcome to the Jungle out in time for Christmas 2019. That date will perk up movie fans' ears for one major reason – Star Wars: Episode IX is also hitting theaters that very same weekend. You may be thinking, "So what, it's Star Wars! What other movie could possibly pose a challenge to the war in the stars?" Welp, Jumanji just might.
Director Jake Kasdan's body-swap comedy – which takes audiences inside the magical game, instead of showing it spill into the real world á la the 1995 original – is currently the seventh highest-grossing movie of 2017. It's made more money in the U.S. than a DC and a Marvel property, Justice League and Thor: Ragnarok. Earlier this month, it dethroned Star Wars: The Last Jedi from its number one spot and has remained atop the box office ever since. That has surely convinced Sony that they have an opportunity to grasp with the rebooted material, which is certainly in large part thanks to Johnson's casting.
So will a second outing of The Rock freaking out over his biceps have enough steam to compete with the next (and final in the trilogy) Star Wars installment ? It's a risky move for sure. On a creative standpoint, I worry the body-swap gimmick of WttJ would lose its appeal (which already ran out of steam half-way through the movie) in a follow-up. Even if Johnson, Kevin Hart, Karen Gillan, and Jack Black were to return for the next film, what other humor is left to explore with their avatars? Casting all new leads, and introducing a new twist to the game, could bring it some freshness. And it's worth considering how the Kasdan film may have benefited by opening a week after The Last Jedi, catching audiences who already saw Star Wars the previous weekend. But going head-to-head over a holiday weekend in 2019, especially if marketing for the Jumanji sequel gets drowned out by Star Wars buzz, could be a major gamble.
Gallery – Reboots That Are Also Sequels: