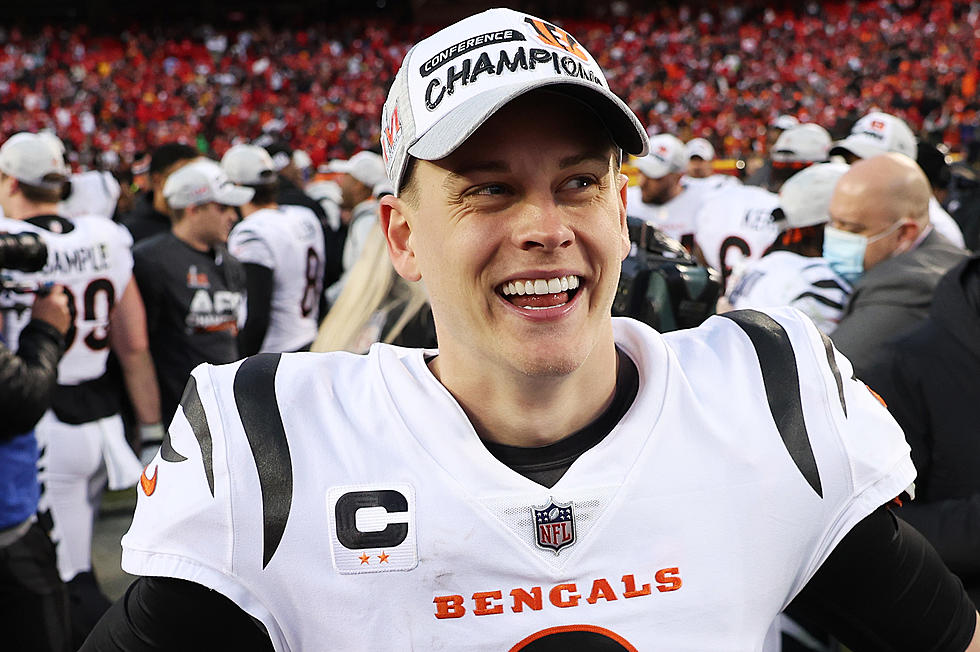 Joe Burrow Mocked While at LSU for Choosing Salad Over Popeyes
Getty Images
There isn't much Joe Burrow can do wrong these days. The award-winning pro football quarterback has certainly been spending a lot of time in the limelight and deservedly so. His Cincinnati Bengals are one win away from a return trip to the Super Bowl and a lot of pundits feel the Bengals wouldn't even be sniffing the playoffs if it weren't for Burrow.
Despite his successes in recent years, it was apparently Joe's time at LSU and a particular incident in the dining hall that must have been what set Burrow on his skyrocket ride to stardom.
The story goes like this, Burrow was in the LSU dining facility preparing to have a salad ahead of a big plate of lasagna. The other LSU players in the facility chided Burrow for his choice of "rabbit food" over Popeyes Fried Chicken. It's a staple in the Louisiana fast food diet and they obviously have it on their training tables at LSU for the droves of Louisiana athletes in the program.
Now we are not sure if Joe's LSU teammate then and current Bengals teammate Ja'Marr Chase was in on the chicken chiding but whether you credit the chicken skin, the coating, the grease, the spices, or just the coincidence, it's worked out well for the two LSU Tigers turned Bengal Tigers in the Queen City. 
This isn't the first time a sports team in Louisiana has invoked the mythical powers of Popeyes chicken. Remember when Saints fans clogged the drive-thrus at Popeyes because someone on the Saints squad suggested that "we win when we eat Popeyes"?
If you don't recall that was back in 2014 and stars Robert Meachem and Pierre Thomas were lamenting the team's struggles in road playoff games. That's when then-head coach Sean Payton acquiesced and made sure the Black and Gold had their Popeyes back in the locker room and back on the plane.
Incidentally, the Saints won that game in Philadelphia giving the team its first-ever road playoff win. You might recall the game. The Saints won 26 to 24 on a last-minute field goal.
So maybe there is something to this Joe Burrow, New Orleans Saints, we gotta eat Popeyes Chicken scenario. You won't ever know if the magic of Popeyes will work for you unless and until you try it.
Maybe we can leave the salads for the Falcons or the Bills or the Vikings. You know those teams that don't ever win Super Bowls.
10 Best Cajun/Creole Seasonings
There are lots of amazing Cajun and/or Creole seasonings around Acadiana. However, we asked you, and here are the top selections.