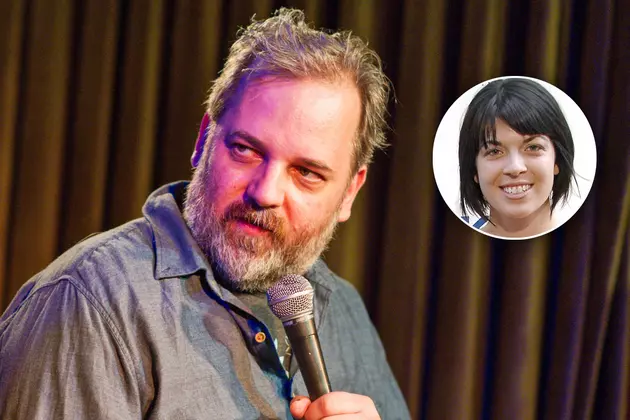 'Community' Writer Megan Ganz Calls Out Dan Harmon's Workplace Behavior
Emma McIntyre / Joe Corrigan, Getty Images
Anyone familiar with Dan Harmon's Community tenure will likely remember behind-the-scenes conflict that culminated in his termination, and eventual return. Now, amid the many airings of grievance around Hollywood, fan-favorite writer Megan Ganz called Harmon out for his abrasive – even intimidating – behavior in the writers room.
Ganz joined the Community staff in Season 2, and was responsible for such classics as "Basic Lupine Urology" and the two "Documentary Filmmaking" episodes. She even stayed beyond Harmon's firing in Season 4, but left the series ahead of its fifth and six years. Harmon has since moved on to Rick and Morty and several other projects, but upon tweeting his intent to make 2018 "Year of the Not as Much of an A–hole," Ganz reminded him of past behavior:
According to Ganz, Harmon's bullying behavior made so that "it took years to believe in my talents again," and she also alluded to him asking for her phone number. In the interest of not embedding repetitive tweets, we've reproduced the exchanges below:
HARMON: i'm filled with regret and a lot of foggy memories about abusing my position, treating you like garbage. I would feel a lot of relief if you told me there was a way to fix it. I'll let you call the shots. Til then, at least know I know I was an awful boss and a selfish baby.

GANZ: I wish my memories were foggier. I wish there was a way to fix it. It took me years to believe in my talents again, to trust a boss when he complimented me and not cringe when he asked for my number. I was afraid to be enthusiastic, knowing it might be turned against me later … You want relief? So do I. I want to watch the first episode of television I wrote again without remembering what came after. Figure out how to give me that relief and I'll return the favor.

HARMON: I'm disgusted and sorry that I stained our show and your talent with my selfish, childish s—. I get that I can't erase it, don't want to, but have felt sick about it. I have kept a wall between me and coworkers and I have preached doing so as gospel because of how I treated you

GANZ: I haven't listened to your podcast, but I don't think walls are the answer. Unless you put them up with male coworkers, too. Otherwise you're falling into the Mike Pence School of Gender Relations that says men can't be trusted with women's phone numbers … But if I can offer this: It's good to recognize power dynamics, but it's also good to recognize you're no different from those you employ. You're not a king on a hilltop, nor a beast in a labyrinth. Isolation isn't always best. Connection breeds empathy. Empathy allows growth.
The exchange ended amicably enough with Harmon offering to "suffer and atone" at her behest, while Ganz appreciated Harmon's "attempts to make amends and your acknowledgement of fault." For what it's worth – this isn't the first report we've had of Harmon conflicting with co-workers, as numerous Rick and Morty delays will attest. In those instances, Harmon pointed to perfectionism, rather than bad blood.
Check Out 100 TV Facts You May Not Know!