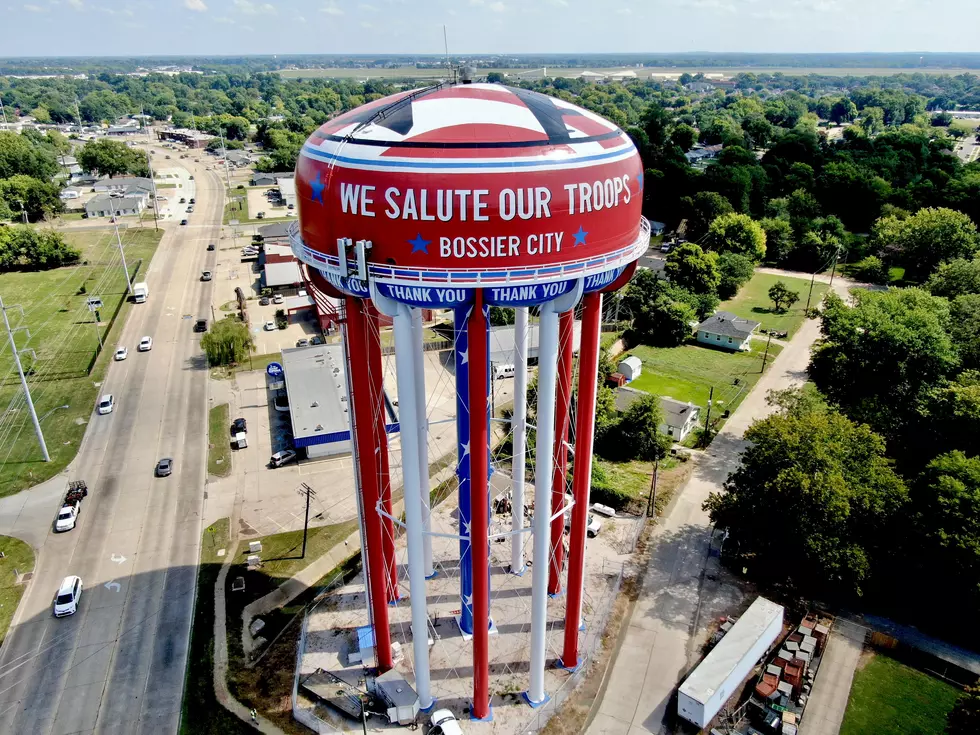 One Week Left to Vote for Bossier City Water Tower
Bossier City
We know about the amazing paint jobs on Bossier City water towers and now those pieces of art could bring some more positive attention to the city.
Bossier City needs votes in the national contest for water towers.
Two years ago, the Shed Road tower won the People's Choice award in the annual Tank of the Year competition.
Kansas-based TNEMEC is a protective coating company and they sponsor this competition each year to celebrate creative ways to protect and coat water tanks around the nation.
Now, it will be considered alongside 11 other committee-determined tanks to name the official 2020 Tank of the Year. The winning tank will be announced Friday, Oct. 23.
The winning tower from last year is a patriotic salute to first responders. It also has a B-52 on top of the tank.
What Tower Is Nominated This Year?
The nominee from Bossier City this year is the tower on Airline Drive at Barksdale Boulevard, which also has a patriotic theme. This tower was just recently completed and the city hopes it's also a winner.
Mayor Tommy Chandler hopes residents from all over the region will step up to vote for this tower. "For the next two weeks, our community has the opportunity to vote for their favorite water tank out of hundreds throughout the country," Chandler said in a statement released Friday.
You have until Friday to get those votes in for the People's Choice Award. The winner will be announced on Monday, October 17.
Click here to cast your vote for the Bossier City water tank.
Checkout the Latest Bossier Cleanup
Dozens showed up to help clean up all around Bossier City
5 Worst Places to Run Out of Gas in Shreveport Bossier
This could be a list of 20 spots, but we narrowed it to the top 5.