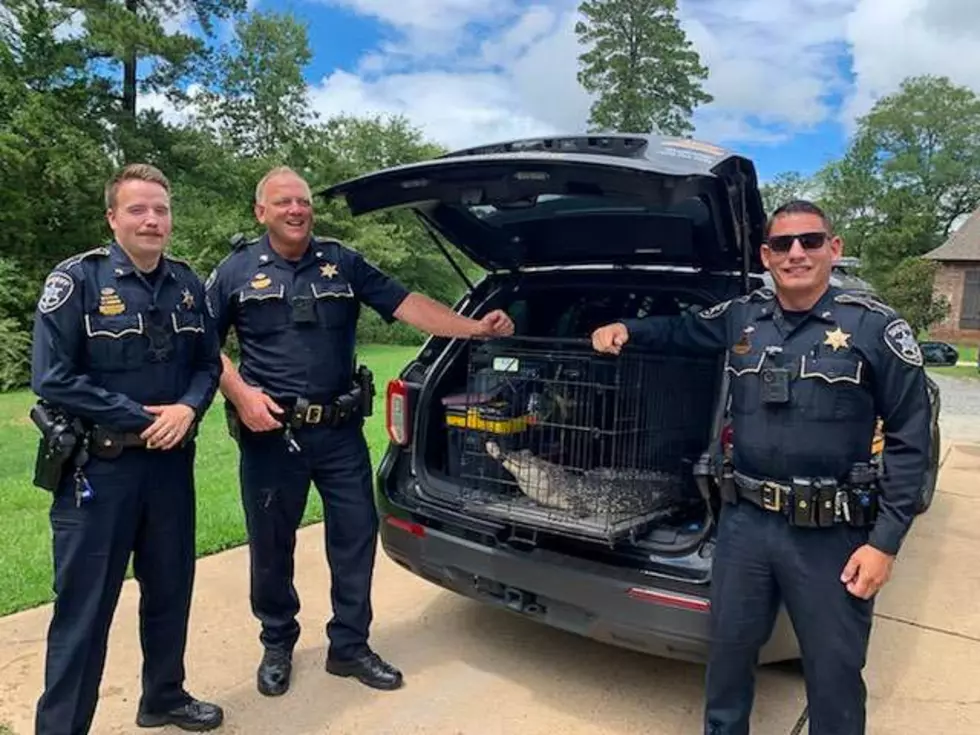 Benton Family Swimming Pool Almost Became New Home For Gator
Bossier Parish Sheriffs Office
When an alligator appears from right of the swamp and begins to near your swimming pool in the backyard, what do you do? You call the "Gator Busters."
All kidding aside, situations like this could get ugly and extremely dangerous, so if you live anywhere in Bossier Parish, you'd immediately call the Bossier Parish Sheriff's Department.
That's exactly what happened yesterday on the Benton property of Jerry and Kirsten Lawrence and it wasn't long before Bossier deputies Steve Hoff, Connor McLaughin, and Austin Mueller were on the scene doubling as agents of the Louisiana Wildlife and Fisheries and wrestled a three-foot alligator only feet away from the Lawrence's swimming pool.
"Many of our animal calls range from loose livestock, horses, and dogs, and sometimes alligators," said Sheriff Whittington. "Our deputies just have to be prepared for almost any call that comes in, because you never know what the day will bring."
Evidently this little guy found out that alligator season was only a couple of weeks away and he decided to head for safer ground. Thankfully, the deputies were able to safely subdue the animal before anyone could get hurt.
The deputies relocated and released the alligator into the Bodcau Wildlife Management area in Benton.
RANKED: Here Are the 63 Smartest Dog Breeds
Does your loyal pup's breed make the list? Read on to see if you'll be bragging to the neighbors about your dog's intellectual prowess the next time you take your fur baby out for a walk. Don't worry: Even if your dog's breed doesn't land on the list, that doesn't mean he's not a good boy--some traits simply can't be measured.
What Are the Worst Intersections in Bossier City?
These are the places you are most likely to be in an accident in Bossier.