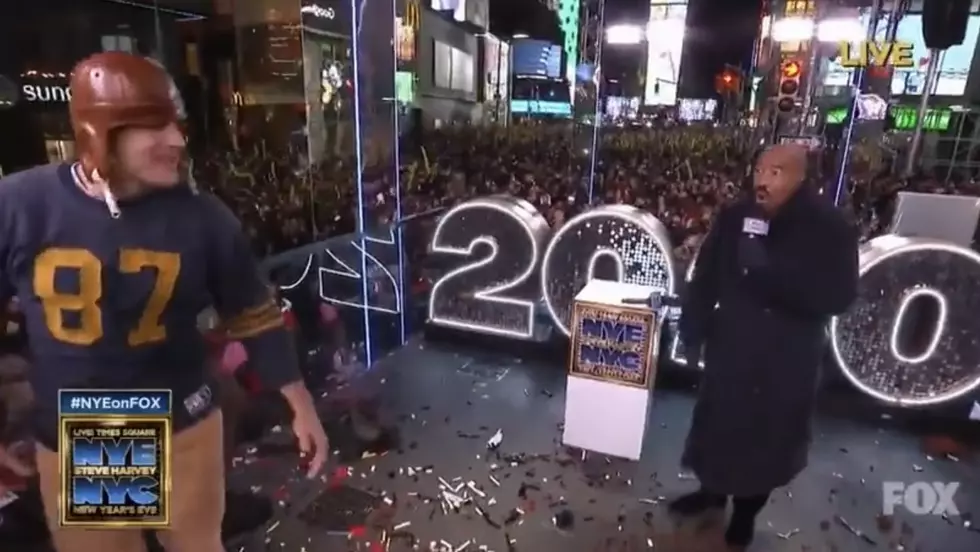 As Rob Gronkowski Retires from Football, Remember the Time He Spiked Steve Harvey's Head on Live Television
Twitter via @barstoolsports
While legendary pass catcher Rob Gronkowski will no longer be playing in the NFL, his patented "Ground-Spike" celebration will live on forever. There was one spike in particular that is being remembered and it involved another legend of the television, Steve Harvey.
"I don't want to work with him no more. Why is he here?!"
Rob Gronkowski Announces His Retirement from the NFL
Today, the touchdown-machine @gronk announced that he would be retiring from playing professional football.
Whether you loved to see him gallup down the field like an absolute machine or hated to see him score on your favorite team, every football fan recognizes 'Gronk' the second he appears on the field. His long limbs and nimble body allowed him to bounce off of defenders and corral passes in ways that very few professional pass catchers have been able to imitate in the history of the game.
And of course, there was the "Gronk-Spike".
While Gronkowski made his hay spiking footballs into the end zone after touchdowns, one of his most notable spikes happened away from the gridiron.
Rob Gronkowski Spikes Steve Harvey's Head on Live Television
During the New Years Eve Countdown back in 2020, Gronkowski made a surprising appearance that left legendary TV host Steve Harvey dumbfounded.
See the video shared to Twitter by @barstoolsports via @Interpolating below.
See the extended version of the spike via @shannonsharpeee on Twitter below.
As you can see, Steve Harvey had received a gift which was a LEGO replica of his own head. Harvey loved the gift, but he had no idea that Gronkowski would appear later in the show to absolutely demotion it.
Reactions to the legendary clip coming from Twitter below.
Don't forget that Harvey and Gronkowski have a history with one another. Remember when Gronk got put in a tight spot on "Family Feud" after being asked about things that could be, "inflated or deflated"?
Take away everything else you know about Rob Gronkowski and you have one of the most incredible offensive forces the NFL has ever seen. Undoubtedly a Hall of Famer, Gronk will go down as one of the best to ever play the tight-end position.
Add back in his personality both on and off of the field and you get one of the most lovable sports figures to ever captivate America.
So congratulations to you, Mr. Gronkowski, on a wonderful professional career.
Will Rob Gronkowski ever Play Football Again?
Although Gronkowski has announced his official retirement, per @AdamSchefter on Twitter - don't doubt yet another comeback his Gronk's old friend gives him a call mid-season.
We will have to wait and see if Gronkowski ever decides to suit up again.
If South Louisiana Cities or Towns Were NFL Football Teams