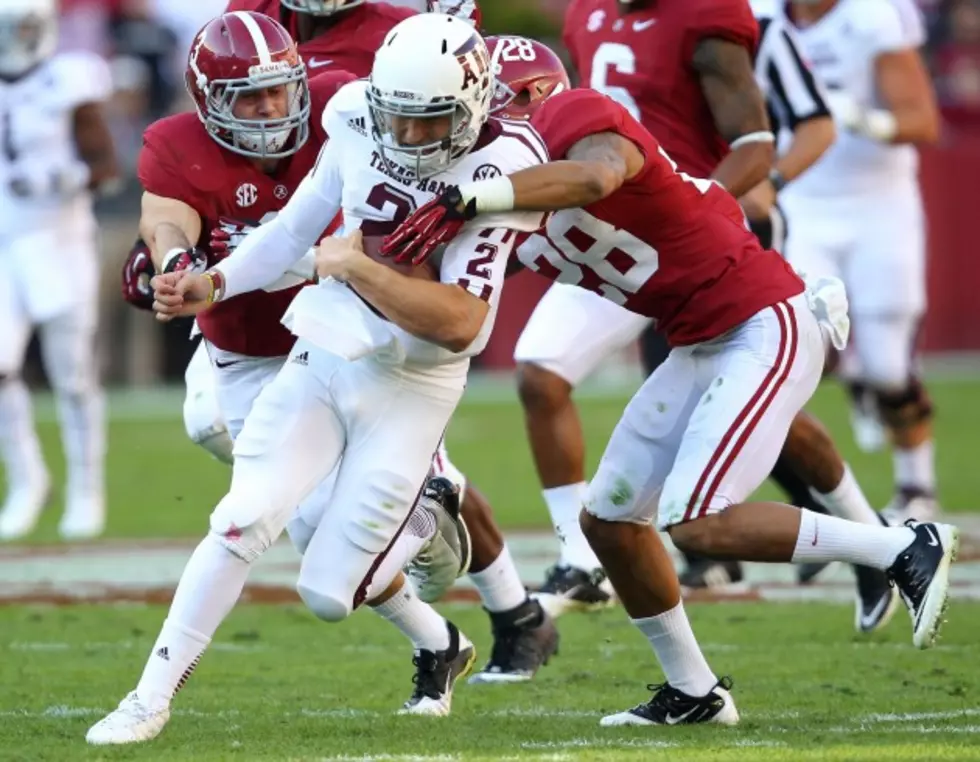 5 Things to Watch for Alabama vs. Texas A&M
Getty Images
Last season, Johnny Manziel and the Aggies pulled off the upset nobody expected when they beat top ranked Alabama 29-24. This year, the match-up is being billed as the "Game of the Century." Here are five things to watch for in the game on Saturday!
1

Taunting

Will Manziel throw up the money sign, or will he keep his cool?

We know, (and you can bet that the Alabama players know,) that Johnny Football can lose his cool.  In the Aggies game against Rice, Manziel responded to every comment thrown his way by the Rice players... eventually drawing him a penalty which got him pulled from the game by A&M Head Coach Kevin Sumlin.

I'll be looking to see if the Tide players are baiting Manziel into a penalty.

2

Saban's Defensive Game Plan

Will Nick send the defense at Manziel, or will he spy the guy and guard against his play-making ability?

Look, the thing that makes Manziel special is his ability to make something out of nothing.  The thing that makes Nick Saban special is his ability to prepare his team for everything.  But how do you prepare for a guy that doesn't even know what he's going to do on any given play? Last year, it was Manziel's ability to create that ultimately did Alabama in.  Saban has had a year to prepare against Manziel for this meeting in College Station.

I'm watching to see how Saban's defense will respond when the play breaks down and #2 starts scrambling.

3

A&M RB Ben Malena

Will Bama focus too much on Manziel and let this talented runner run wild?

He's good.  Real good!  Malena is averaging over 7 yards per carry this season.  He's gained 212 yards in A&M's first two games.  His season totals may not be eye-popping, but his shifty running ability is.  Bama gave up 132 yards rushing to Virgina Tech's Trey Edmunds. Malena would be a much bigger star if he wasn't playing second fiddle in the Johnny Football Show.

I'll be watching to see if the Bama defense keys on #1, or if they get mesmerized by #2.

4

Bama WR Christion Jones

Will Jones be a no-show like he was in last year's game against A&M, or will he be the star that lit up Virginia Tech?

The last time the Tide and Aggies met, you didn't see much of Christion Jones.  He had only three catches for 21 yards, and one punt return for five yards.  In Bama's season opener against Virginia Tech, the wide receiver broke out... scoring touchdowns on a kick return, a punt return and a reception.  Nick Saban knows he's special, and he's Bama's best playmaker.

I'll be watching for the double deuce, when he's on the field he's getting the ball.

5

The Texas A&M Defense

Can they play with the big boys in the SEC?

The Aggie defense has been unimpressive so far.  They let Rice go up and down the field on them in the season opener.  RICE!  That kind of porous defense will not fly in the SEC.  The Aggies remain as highly ranked as they are because of the dynamic play-makers they have on offense.  Texas A&M needs to toughen up if they don't want to get blown out on Saturday.

I'll be watching to see if the Aggie defense is gambling, they'll need to create turnovers to beat Alabama.