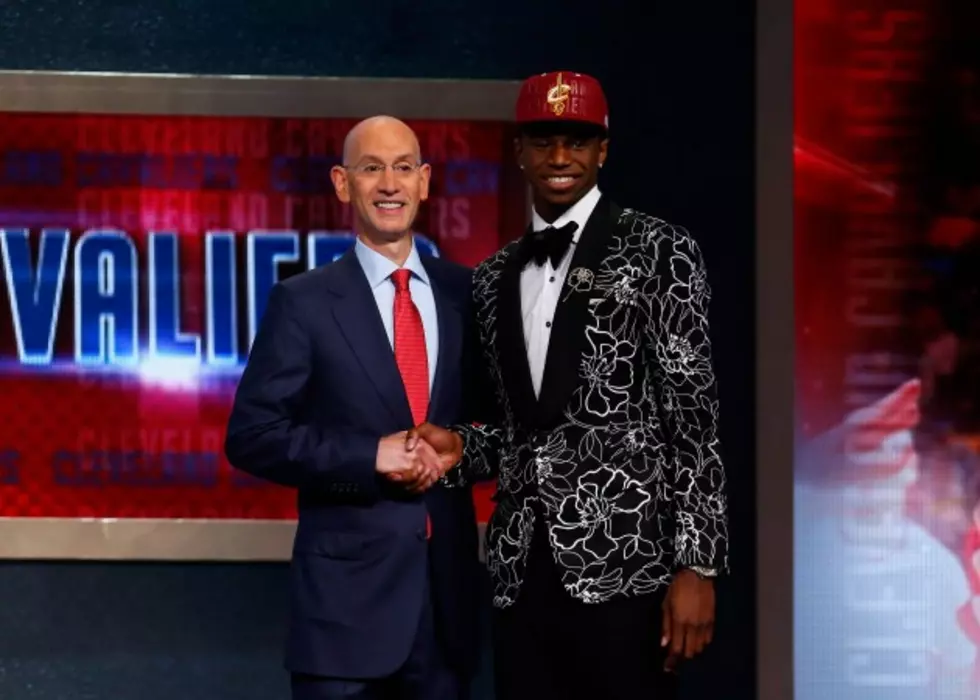 2014 NBA Draft Recap: Andrew Wiggins Leads Parade of Draft Picks
Getty Images
NBA teams divided up the best college and international basketball talent at the 2014 NBA Draft in Brooklyn on Thursday night. Here is a recap of the night's most interesting moments:
Biggest No-Brainer: Andrew Wiggins, Cleveland
With Joel Embiid beset by health concerns, the Cleveland Cavaliers made Kansas shooting guard Andrew Wiggins the first-overall pick. Easily the most athletic player in the 2014 NBA Draft, Wiggins also had the highest upside. With some seasoning and direction, he should be the biggest star to come out of this draft class.
Wiggins joins a Cavs team that already has 2013's top pick Anthony Bennett at forward and 2011 No. 1 Kyrie Irving at point guard. Will 2003 first-overall pick LeBron James join them? Stranger things have happened.
Biggest Steal: Shabazz Napier, Miami Heat
Seems Kemba Walker didn't teach NBA teams that they shouldn't sleep on a score-first Connecticut point guard. Like Walker before him, Shabazz Napier took the Huskies to an NCAA Tournament title. The Hornets scooped Napier up at No. 24 and then sent him to Miami.
The Heat badly needed a better playmaker to help retain LeBron James, who called Napier his "favorite player in the draft" on Thursday. Is it good enough to keep "King James" on South Beach? We'll see.
Best Draft: Boston Celtics
With the entire Eastern Conference in transition, the Celtics took the boldest step forward on Thursday night. Boston drafted Oklahoma State guard Marcus Smart with the sixth-overall pick and then selected Kentucky product James Young at No. 17.
The Smart-Young duo forms a wonderfully titled backcourt of the future in Boston and allows the team to trade veteran guard Rajon Rondo for front court help, if it so chooses. It also gives Celtics' head coach Brad Stevens two dynamic young players to shape into professionals.
Worst Draft: Philadelphia 76ers
Sixers fans may have needed consoling after their team reached twice with its two top 10 draft picks. Philadelphia selected Kansas center Joel Embiid — with his potentially chronic back and foot injuries — at No.3 and then chose point guard Elfrid Payton from Lousiana-Lafayette at No. 10. The Sixers later traded Payton to Orlando for Croatian forward Dario Saric, who can't play in the NBA for at least two years due to his European contract.
IF he's healthy, Embiid could eventually become the best player chosen in this draft, and WHEN Saric can opt out of his deal with Turkey's Anadolu Efes, he could be a skilled front court addition. For now, neither player is likely to help the Sixers win games in 2014-15. Second-rounders K.J. McDaniels, Jerami Grant, Pierre Jackson, Jordan McRae and Vasilije Micic will add depth, but not nearly enough hope.
Player Who Rose: Zach LaVine, Minnesota
With Kevin Love recently asking out of Minnesota, the Timberwolves needed to start re-stocking their talent for the future. They used the No. 13 pick on lanky UCLA guard Zach LaVine, who has a remarkable 46-inch vertical leap — and an attitude to match. LaVine seemed visibly unhappy when his name was announced, even though he went considerably higher than projected. Maybe LaVine can forge a friendship with Timberwolves' point guard Ricky Rubio and help ease the pain of long-suffering Minnesota fans, but he didn't get off to a great start.
Player Who Fell: Rodney Hood, Utah
Have NBA teams started to sour on Duke players, many of whom have struggled to be productive in the pros? Well, they certainly weren't high on guard Rodney Hood, who fell to the Utah Jazz at No. 23. Hood can play several positions and is a solid perimeter shooter, yet teams reached past him to select players like Zach LaVine, Gary Harris, Bruno Caboclo, James Young and Jordan Adams, all of whom were often rated below the former Blue Devil.