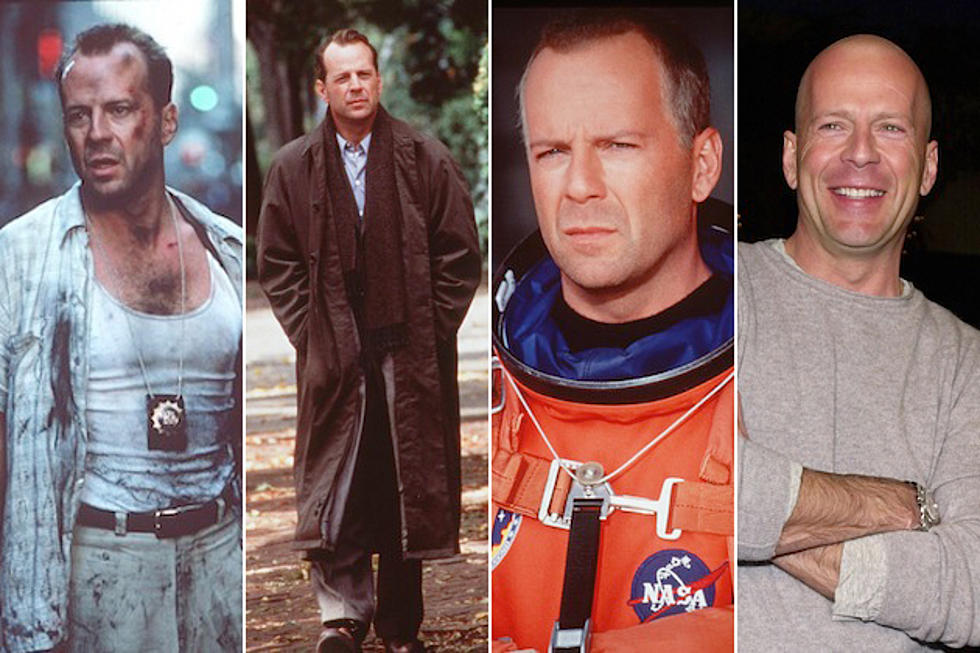 12 Things You Didn't Know About Bruce Willis
20th Century Fox/Disney/Chris Weeks, Getty Images
It's hard to imagine the modern Hollywood action movie being the big, bawdy blockbuster it is without Bruce Willis' influence. He took the average action movie star and turned them from the typical musclebound, humorless hero into a vulnerable, wisecracking smartass who could blow the enemy away and make at least three good jokes before their body hit the ground.
Willis became a mega superstar practically overnight with his breakout role on the hit show 'Moonlighting' and his memorable, career-making role as John McClane in the summer movie blockbuster 'Die Hard.' With his latest action flick, 'Looper,' out this week, we decided to take a look back at some fun facts you might not know about one of Hollywood's most memorable leading men.
1. He was born in Germany
Willis might be one of America's greatest movie stars but he's not technically from America. According to his bio, his mother was German and his father was an American soldier who met his mom while stationed in West Germany. Bruce was born in the West German town of Idar-Oberstein in 1955, and didn't come to America until he was around two-years-old when his father left the military and brought his family back with him to New Jersey.
2. He had a severe stutter as a child
Willis was very outgoing and outspoken as a child and as a teenager, but he had a hard time with the physical act of speaking due to a severe stutter he struggled with until the age of nine. According to an interview he gave to Reader's Digest, Willis discovered a way to overcome his stutter by accident -- he tried out for a part in his high school's drama club production of 'A Connecticut Yankee in King Arthur's Court' and as soon as he took the stage, he noticed his stutter was gone. "When I stepped off the stage, I started stuttering again," Willis said. "And I went, 'This is a miracle. I've got to investigate this more.'"
3. He sported military fatigues and spiked hair to his 'Moonlighting' audition
After ditching college his junior year, Willis started pursuing acting work in New York City and eventually earned the interest of producers for the Madonna film 'Desperately Seeking Susan.' He didn't get the part but the day before he left, he tried out in a large casting call for the lead male role on ABC's 'Moonlighting.'
ABC executives didn't think Willis was right for the part, let alone a leading man based on his bizarre outfit: "A spiky-punk hairdo, combat fatigues and an earring," according to Newsweek. Still, the show's creator, Glenn Gordon Caron, saw something brash and dashing in the young actor and had him do a screen test with the show's leading lady Cybill Shepherd. The two had great screen chemistry and Willis eventually won the part.
4. He suffered permanent hearing loss during the filming of 'Die Hard'
The TV super stardom that 'Moonlighting' brought earned Willis a shot at a movie career with 'Die Hard.' Director John McTiernan wanted a lot of big bangs in his action movie and had the actors use blanks that provided a louder pop onscreen. Unfortunately, the famous "table scene" in which McClane kills one of the baddies by shooting from underneath a long table was so loud and close to Willis' ears that he lost two-thirds of his hearing in his left ear.
5. He starred in his own video game
'Die Hard' launched Willis' movie career but it was films like 'Armageddon' and 'The Fifth Element' that turned him into one of the world's biggest action stars. Naturally, the opportunity for merchandising followed. Following 'Armageddon,' Willis was offered the chance to appear in a video game as the main character's sidekick, a third-person sci-fi shoot 'em up called 'Apocalypse' on the Sony PlayStation. That idea was scrapped and Willis got the leading role and a character modeled after him. Not only did he provide the voice for the character's witty one-liners, but his face was also molded on to the character making him one of the first stars to have his own video game that wasn't based on a preexisting movie.
6. He pitched Seagrams wine coolers while battling a drinking problem
The success of 'Moonlighting' helped Willis score a lucrative spokesperson gig with Seagrams. This resulted in one of the cheesiest ads of the '80s, where Bruce and some pals hang out on the porch and sing into wine cooler bottles as manly men do. Unfortunately (or fortunately for us), a drunk driving bust put the kibosh on Bruce's days as a singing spokesman.
7. He had a Top 5 hit song
Willis was so popular in the '80s, it's safe to say the public indulged him a little. Thus, 'The Return of Bruno,' Willis' 1987 soul album released on the venerable Motown label. The album -- which was boosted by back-up from R&B legends like The Temptations and Ruth Pointer from The Pointer Sisters -- was a moderate success thanks to Willis' cover of the soul classic 'Respect Yourself.' Willis released one more album, 'If It Don't Kill You, It Just Makes You Stronger,' in 1989 before refocusing his career back to acting. Though that hasn't stopped Bruce from showcasing his pipes on everything from 'Rugrats Go Wild' soundtrack to a spoken word track off the Blues Traveler album 'North Hollywood Shootout.'
8. He had his own cartoon
Willis found another way to expand the "Bruno" franchise with the 1996 animated series 'Bruno the Kid.' The actor provided the voice for the title character, a small kid with a receding hairline (see the resemblance?) who lived a double life as an ordinary 11-year-old and a secret agent working for a government agency. Willis also sang the show's theme song (naturally), adding another notch to his short-lived music career.
9. He was married to Demi Moore by Little Richard
Bruce's famous marriage to fellow superstar Demi Moore added to Hollywood's long list of power couples and rocker Little Richard was the one who literally brought them together. Moore and Willis were married in Las Vegas by Little Richard who became a religious minister later in his career, shortly after the death of his mother. The flamboyant singer has also conducted nuptials for such celebrities as Cindy Lauper and Bruce Springsteen.
10. He put a $1 million bounty on Saddam Hussein and Osama Bin Laden

Willis has been an outspoken political supporter of Republican presidential candidates such as Fred Thompson and George W. Bush. He has also made his personal views on Operation Iraqi Freedom and the "War on Terror" well known in interviews and visits with military personnel. He actually put out not one, but two, bounties on enemy combatants Saddam Hussein and Osama Bin Laden for their capture. He originally wanted to make the offer to members of the military but couldn't because U.S. military personnel aren't allowed to accept rewards for their work outside of their government pay. So he left the offer open to any civilian who completed the mission instead.
11. He personally recommended Michael Clarke Duncan for 'The Green Mile'
Green got his big break with the action epic 'Armageddon' after working around Hollywood as a bodyguard for big name stars like Will Smith and LL Cool J. Willis got to read a copy of the script for 'The Green Mile' and thought MCD would be perfect for the role of John Coffey. So he personally called writer/director Frank Darabont and recommended him for the role. Willis and Duncan later worked together in the films 'Breakfast of Champions,' 'The Whole Nine Yards' and 'Sin City.'
12. He starred in 'The Sixth Sense' because he owed Disney for sinking another film
One of Willis' most memorable performances in recent years was as child psychologist Dr. Malcolm Crowe in M. Night Shyamalan's 'The Sixth Sense.' However, it wouldn't have happened if he hadn't caused the cancellation of another film project. Willis had been tapped to star in a Disney-backed hockey movie called 'The Broadway Brawler,' but tensions arose between Willis and the filmmakers. Willis had a producer credit and abruptly stopped the production by firing the director and just about everyone else in the crew. 20 days into the project, he walked off the set, successfully killing the film.
Disney chairman Joe Roth didn't want to see Willis or the studio embroiled in a lengthy legal battle, so he convinced Willis to make amends by committing to at least two other films with the Mouse House. Those movies ended up being the sci-fi comedy drama 'The Kid' and the far-more-memorable blockbuster 'The Sixth Sense.'