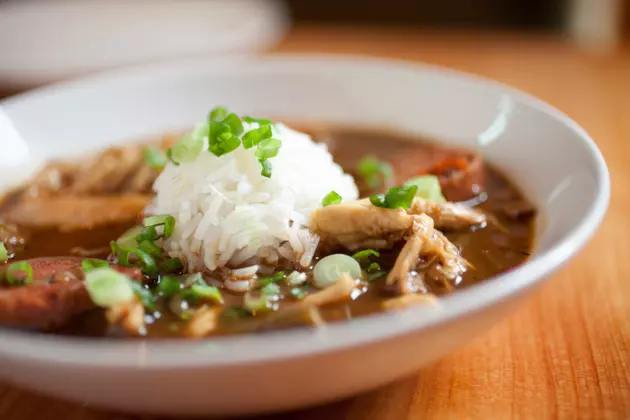 The Ten Most 'Louisiana' Foods
sf_foodphoto, ThinkStock Images
When it comes to Louisiana, we do it best in the kitchen.
After living in Louisiana for about two and a half years, I've noticed there are dishes that are uniquely Louisiana. They also happen to be my favorite dishes throughout the state. So, I did a few Google searches and found these ten dishes that come up with just about any kind of Louisiana cuisine search. Whether it be "Cajun Cooking", "Creole Dishes", or even "Louisiana Food."
The Internet tends to stereotype people, but in this case I think it's spot on... From a newbie standpoint anyway.
1

Generally described as a stew made with a roux, rice, and some sort of protein. Most are served with a big spoonful of rice in the middle or underneath it. It certainly warms the soul on a chilly night.

2

The pronunciation of this one still throws me off when I see it in print. This is typically a sausage that's smoked comprised of meat and rice.

3

I've heard this one described as a "meal in a bowl." Sausage, vegetables and your choice of protein make this a hearty dish that will put meat on your bones. Also served with rice.

4

This dish describes itself. A simple, but oh-so-delicious, combination of red beans and rice. I've seen this cooked down with a ham hock for added flavor.

5

Generally served with seafood like shrimp or crawfish, the word actually means "smothered." The protein is cooked in a roux with choice vegetables like tomatoes, onion or green pepper and served over rice.

6

The po'boy is more than just a sub sandwich. It's a huge slab of French bread topped with your choice of protein, lettuce, tomato, pickles, red onion and mayonnaise (or some other kind of sauce).

7

Harvested in the south and best served in the south, crawfish are a staple in Louisiana. We dedicate entire festivals to these little mudbugs. Generally served with corn on the cob and potatoes. And the spicier, the better!

8

This dessert is served during the Mardi Gras season. Puff pastry with fillings such as pecan praline, cream cheese, cinnamon, chocolate, strawberry and more.

9

Many say this dish was born in New Orleans. It's a banana dish made with dark rum, sugar and spices. The bananas are flambeed with the rum and sugar. Once caramelized and the alcohol is cooked out, they are served over vanilla ice cream.

10

Best described as a "French doughnut" these are pieces of dough that are deep fried until crispy on the outside. They are then dusted with powdered sugar. I love mine served with a chocolate or caramel sauce.