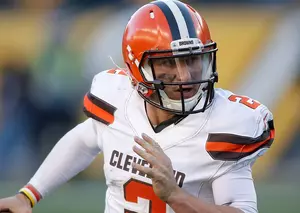 The Canadian Football League Has Released Johnny Manziel
Getty Images
It's been less than a year since Tyler's own Johnny Manziel was signed on as the quarterback for the Montreal Alouettes. It was a long journey to the CFL for Manziel, beginning in March 2017 and trudging forward through a series of negotiations and contract stipulations that even the CFL described as "extensive and exacting." Eventually, approval to play was granted and Manziel went on to start eight games in 2018.
Yesterday afternoon, KLTV reported that Manziel has been dropped from the Alouette roster. However, It's not just the Alouettes, but according to the CFL's own website, "the CFL has informed all of its clubs that it will not register a contract for the former Texas A&M pivot should any club attempt to sign him."
So, what happened? Early in the negotiation and approval process, there was a meeting back in September of 2017 that lead to a statement from the CFL Commissioner, Randy Ambrosie "that he would not be prepared to approve a contract for Manziel at the time but after conditions were agreed upon and met by the A&M grad, an approval was granted in December."
Although the details of the aforementioned "extensive and exacting" contract that finally lead to Manziel's approval to play in the CFL have been kept confidential, the league stated "it was found that Manziel had contravened the agreement which made him eligible to play in the league."
Get more detail on the story here.