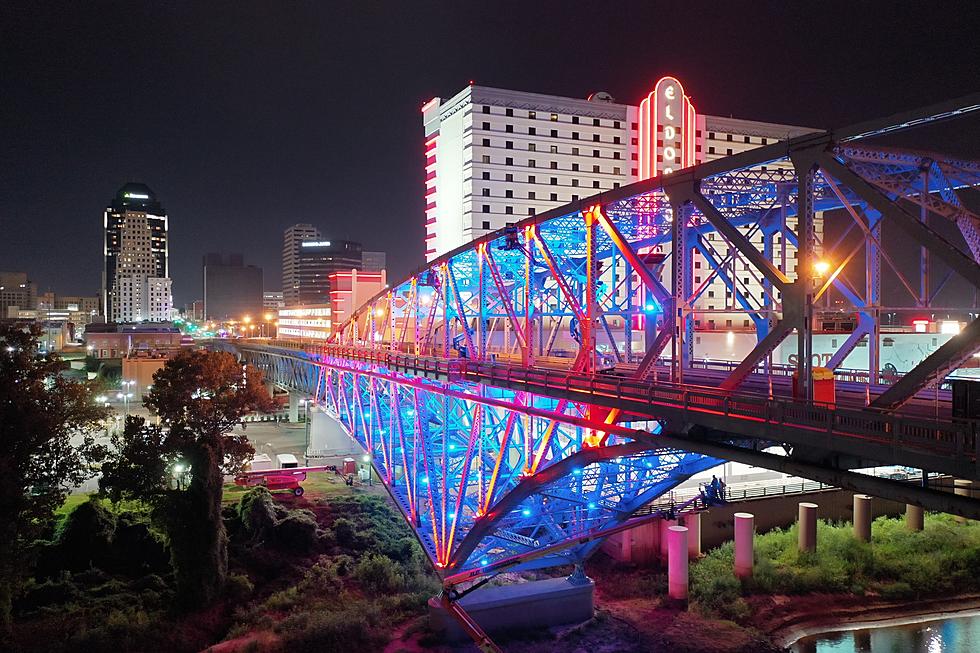 See Photos Of The New Lights On Shreveport's Texas Street Bridge
Casey Jones - Shreveport Regional Arts Council
One of the coolest projects Shreveport has seen in the last decade is coming together this week. On a historic date, 2-22-22, a historic event will forever change the look of downtown Shreveport.
The Bakowski Bridge of Lights on the Texas Street Bridge will be permanently lit on 2-22-22 in Downtown Shreveport. With a ton of activities to go along with it. The Bridge Lighting is going to feature tons of activities and sights, like light shows, fireworks, live entertainment, food trucks, an arts market, wedding ceremonies, and much more.
The full event gets underway at 5:30 at Riverview Ampitheather. Its free family fun, so you can grab everyone to come out for the Bakowski Bridge Lighting. With food trucks there, you can even skip dinner to get there early. You can find more details on teh event on the Shreveport Regional Art Council Facebook page.
This new light display on the bridge comes from a massive local donation. According to the Shreveport Regional Arts Council, the donation comes from a local doctor and his wife. Here are the details:
"It is in large part due to a $1M donation from Dr. and Sandra George Bakowski that 375 Color Kinetic LEDs by Signify Lighting Company will interactively illuminate 2,982 feet of what opened in 1934 as the Long/Allen Bridge. Dr. George and Sandra Bakowski made the donation of the funds to procure the LED LIGHTS; the Red River Waterway Commission made the commitment of $1M to install the Lights with additional support from the Louisiana Public Service Commission to provide new LED Roadway Lighting."
Check out some pictures of how cool this new addition to Downtown Shreveport will look...
See Photos Of The New Lights On Shreveport's Texas Street Bridge