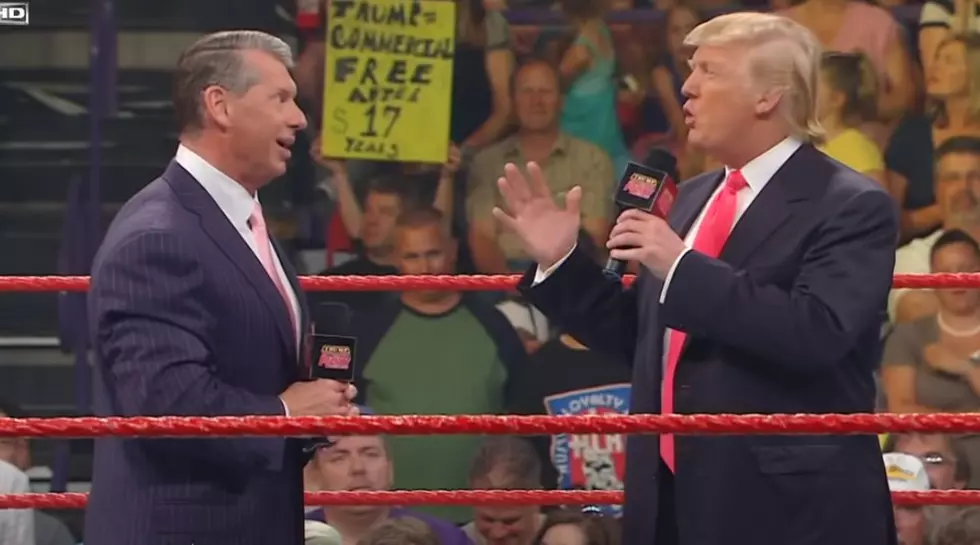 Remembering When Donald Trump Bought WWE's Raw Brand
WWE via Youtube.com
Life was a lot easier for Donald Trump back in 2009. Instead of dealing with pandemics, international negotiations, and diplomacy, he was just working on his WWE Hall of Fame career.
Ok, he wasn't just working on that, he was doing other things, but he was totally appearing in WWE story-lines. Which wasn't just a one-time thing, he was actually doing on a pretty regular basis. Including a massive Wrestlemania feud with WWE Chairman Vince McMahon, which happened in 2007.
Oh, and that "WWE Hall of Fame" thing I mentioned, that's fact. Before he became the 45th President of the United States, Donald Trump was elected to the WWE Hall of Fame. Making him the first pro wrestling Hall of Fame member to be elected President. Something that will probably never be topped...until The Rock runs for President that is.
But lets go back in time to relive some amazing Trump moments in the WWE. We're going to focus in on 2009, specifically June of that year. Because in one of the most underrated story-lines of that generation, Donald Trump purchased the Raw brand and TV show from Vince McMahon.
Here's how good (and bad) this story-line was for WWE, the story was told so well, that WWE stock actually dropped 7% because of the "sale". WWE actually had to issue a press release to "smarten up" Wall Street to pro wrestling. They didn't go as far as explaining kayfabe, shoots, and works, but they cleared up the concerns of investors.
In the Trump story-line, Vince announced that the Raw brand had been sold, and revealed the buyer to be Trump. During the first official promo from Trump in the story-line, he announced that his first Raw would be commercial-free. Which was actually followed through on by WWE.
The following week, Trump's first Raw, ended up being the highest rated Raw in nearly a decade. It was helped by some crazy good matches, and the fact Trump was live on the show. Having Trump live created a lot of opportunity for crazy moments to happen, which definitely led to some extra eyes on the broadcast.
Ultimately, Vince was able to "purchase" the brand back during the show...
Let's take an in-depth look at this amazing WWE story, that we wish was able to go just a little bit longer. Quickly, to the time machine! Let's head to June of 2009...
The Highlights Of The Time Donald Trump Bought WWE's Monday Night Raw