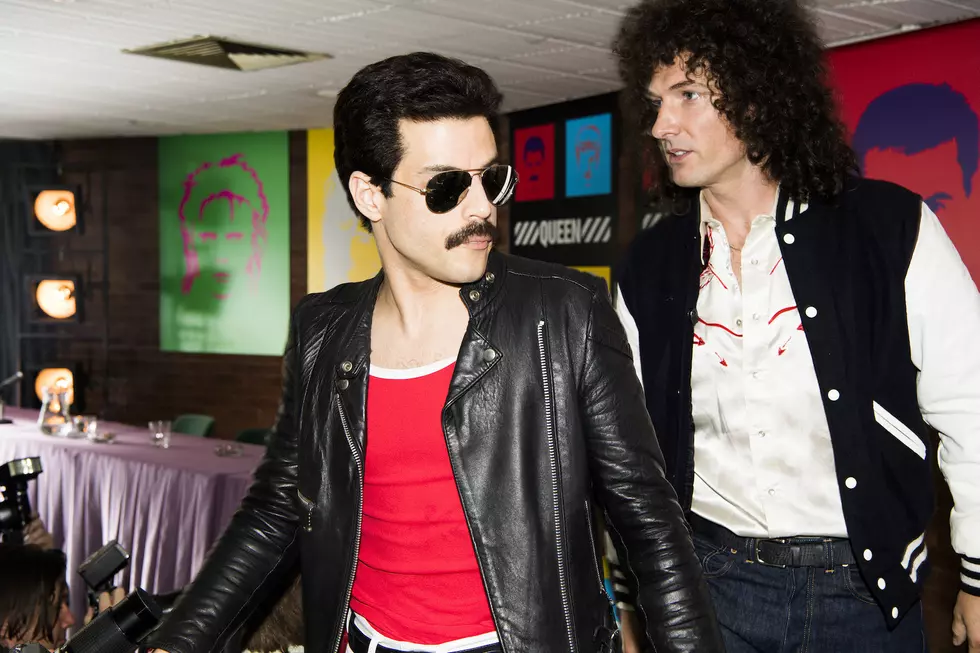 Rami Malek Takes the Stage As Freddy Mercury in New 'Bohemian Rhapsody' Photos
20th Century Fox
When that initial first look at Rami Malek as Freddy Mercury arrived last fall, the internet nearly melted. With buffed arms, a white tank tucked into blue jeans, and that iconic 'stache, Malek was Mercury. Now a trio of new photos from Bohemian Rhapsody have arrived, more than proving Malek is pretty darn perfect as the late Queen frontman.
During 20th Century Fox's presentation at CinemaCon today, the studio shared a pair of new photos from the Queen singer's biopic. One features Malek donning a leather jacket and sunglasses beside Gwilym Lee as Queen lead guitarist Brian May. It's so good, I almost thought it was an actual photo of Mercury for a split second. The second photo shows Malek on stage with Lee's Brian, Ben Hardy's drummer Roger Taylor and Joe Mazzello's bassist John Deacon on stage at the band's famous Live Aid performance.
Empire magazine shared a new close-up of Malek whaling on the mic during the Live Aid concert scene, and it's a pretty fantastic:
The biopic hit a road block late last year when director Bryan Singer was reportedly fired for absences from set and unprofessional behavior. Dexter Fletcher soon stepped in to take over directing duties. Here's the full official synopsis:
Bohemian Rhapsody is a foot-stomping celebration of Queen, their music and their extraordinary lead singer Freddie Mercury, who defied stereotypes and shattered convention to become one of the most beloved entertainers on the planet. The film traces the meteoric rise of the band through their iconic songs and revolutionary sound, their near-implosion as Mercury's lifestyle spirals out of control, and their triumphant reunion on the eve of Live Aid, where Mercury, facing a life-threatening illness, leads the band in one of the greatest performances in the history of rock music. In the process, cementing the legacy of a band that were always more like a family, and who continue to inspire outsiders, dreamers and music lovers to this day.
The studio also shared the first trailer from the film during the presentation, and reporters in the audience had positive-to-mixed reactions. The footage included the Live Aid concert scene and was full of Queen music:
Hopefully we get to see and hear it for ourselves soon. Bohemian Rhapsody hits theaters November 2.