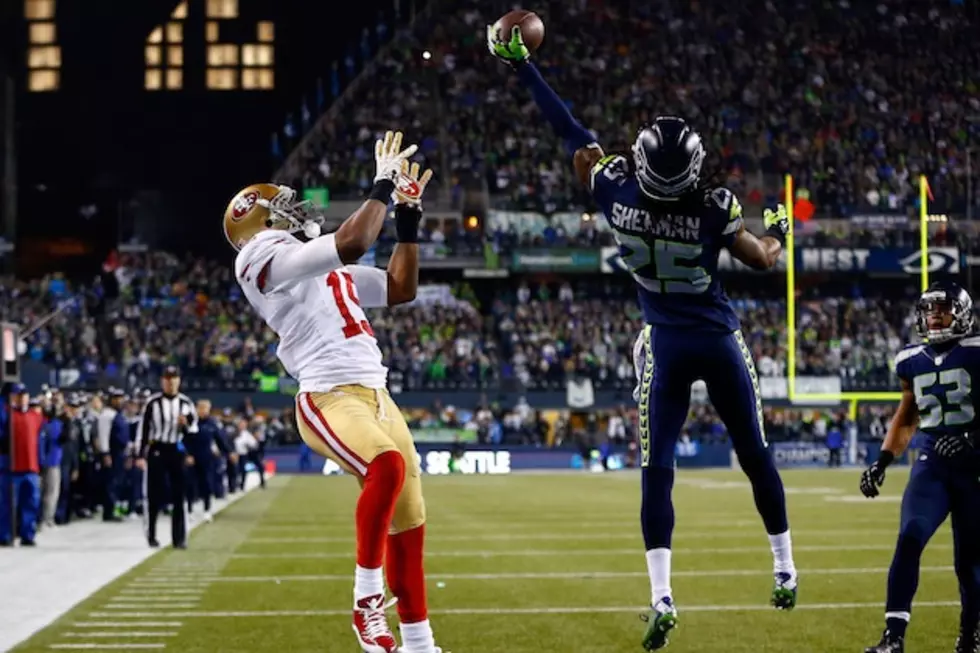 NFL Conference Championship Recap: Seahawks & Broncos Win, Will Meet In Super Bowl
Getty Images
The Seattle Seahawks and Denver Broncos each won their respective conference championship games on Sunday to advance to Super Bowl XLVIII in New Jersey on Feb. 2. Here's a recap of Sunday's action:
NFC Championship: Seattle 23, San Francisco 17
Richard Sherman's deflection turned a potential go-ahead touchdown pass attempt into an interception with 22 seconds to play, and the Seahawks held on to beat the San Francisco 49ers, 23-17, to win the NFC championship in Seattle on Sunday. The Seahawks advanced to face AFC champion Denver in Super Bowl XLVIII on Feb. 2.
With his team down six points late in the fourth quarter, quarterback Colin Kaepernick led San Francisco to the Seattle 18-yard line with less than a minute remaining. Kaepernick threw a pass into the right corner of the end zone intended for Michael Crabtree, but Sherman leaped to bat the ball away into the hands of teammate Malcolm Smith to end the drive — and the season - for the 49ers.
After trailing most of the game, the Seahawks took a 20-17 lead early in the fourth quarter on Russell Wilson's 35-yard heave to Jermaine Kearse with 13:44 left. Prior to the Niners' final drive, Seattle kicker Steven Hauschka added his third field goal of the day with 3:37 to play.
Marshawn Lynch carried 22 times for 109 yards and a score for the Seahawks. Seattle's Doug Baldwin caught six passes for 106 yards, and he returned a kickoff 69 yards to help set up Hauschka's third quarter field goal. Wilson threw for 215 yards and the score to Kearse.
Kaepernick finished with 153 yards passing and a touchdown and 130 rushing yards on 11 carries, but he lost a fumble and threw two costly interceptions.
AFC Championship: Denver 26, New England 16
Peyton Manning passed for 400 yards and two touchdowns, and the Broncos dominated the New England Patriots, 26-16, to win the AFC championship in Denver on Sunday. The Broncos advanced to face NFC champ Seattle in Super Bowl XLVIII on Feb. 2.
Denver stormed to a 13-3 halftime lead, and its 13-play, 80-yard drive at the start of the second half consumed more than seven minutes and ended with a 3-yard scoring pass from Manning to Demaryius Thomas that gave the Broncos a 20-3 advantage.
New England's first touchdown of the game, a 7-yard pass from Tom Brady to Julian Edelman, came with 9:26 to play and fell in between Matt Prater's third and fourth field goals of the day for Denver. Brady's 5-yard TD run with 3:07 left in the game brought the Patriots to within 10 points, but they could not stop the Broncos and continue the rally.
Thomas caught seven passes for 134 yards and a score against a soft New England defense. Denver tight end Julius Thomas had eight catches for 85 yards.
Brady finished 24-of-38 for 277 yards and a touchdown to Edelman, who finished with 10 receptions for 89 yards. New England's offense managed just 64 net yards rushing against the Broncos.