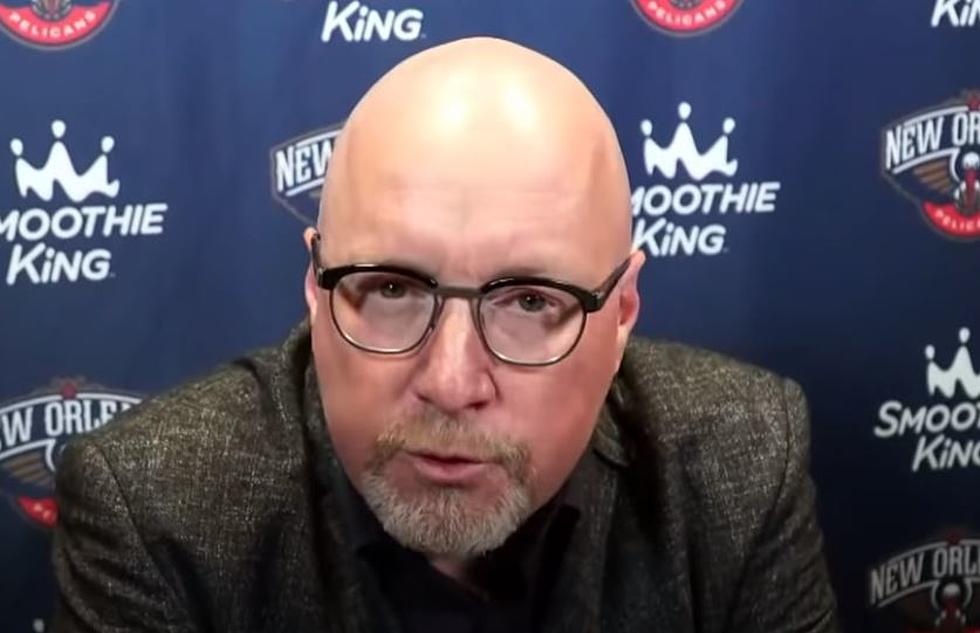 NBA Fines Pelicans Executive $50,000 Over Criticism of Officials
New Orleans Pelicans via YouTube
David Griffin, the Executive Vice President of the New Orleans Pelicans has been fined $50,000 by the league. The National Basketball Association levied that fine against Griffin on Sunday following remarks that Griffin made that were, to say the least, disparaging toward NBA officials and the way those officials call games involving New Orleans Pelicans superstar Zion Williamson. 
The remarks by Griffin were made following a finger injury to Williamson. An injury that could have the Pelicans star out of action for an indefinite period of time. In that injury, Williamson fractured the ring finger on his left hand. It's an injury that Griffin believes could have been avoided if NBA referees were calling the game properly.
Griffin's remarks to the media were made on May the 7th following Williamson's injury. In those comments, Griffin noted that,
I'm really frustrated because this was avoidable. We told the NBA through every means available to us, through sending in film, through speaking to everybody in the officials department and everybody in basketball operations, that the way they were officiating Zion was going to get him injured.
And quite frankly, he's injured because of the open season that there's been on Zion Williamson in the paint.
Griffin's comments were chronicled in a story published by WVUE Television in New Orleans. 
While those comments may have really irked NBA officials, perhaps it was these comments by Griffin that sent the league over the edge.
I believe he probably suffered the injury over a period of time. It's a striking injury. It's a blunt-force injury. He was being beaten on the handover and over and over again. For me to tell you one time, I don't think I can do that. I don't think he knows one time.
Those comments were reported by slamonline, a basketball website.
Now it is unclear exactly when Williamson injured his left ring finger but the speculation is that the injury came during the Pelicans win over Golden State a week ago last Tuesday. It's believed the damage was done when Williamson reached for an offensive rebound against the Warriors Kevin Looney. The Pelicans won the game 108 to 103.
While that game was played last Tuesday a CT Scan of Williamson's injured finger was not taken until Thursday. That's when the fracture was noted.  There has been no specific timetable announced as to when Williamson would be returning to the Pelicans lineup.
The Pelicans who were losers to Memphis last night by a score of 110 to 115 will be on the road tomorrow to take on Dallas. On Friday the Pels will be at Golden State before returning home to the Smoothie King Center for a game with the Los Angeles Lakers on Sunday.
Hey being a professional athlete is a tough business. That's why we're celebrating these individuals from here in our hometown that have made a name for themselves in professional sports.
20 Pro Athletes From The Lafayette Area