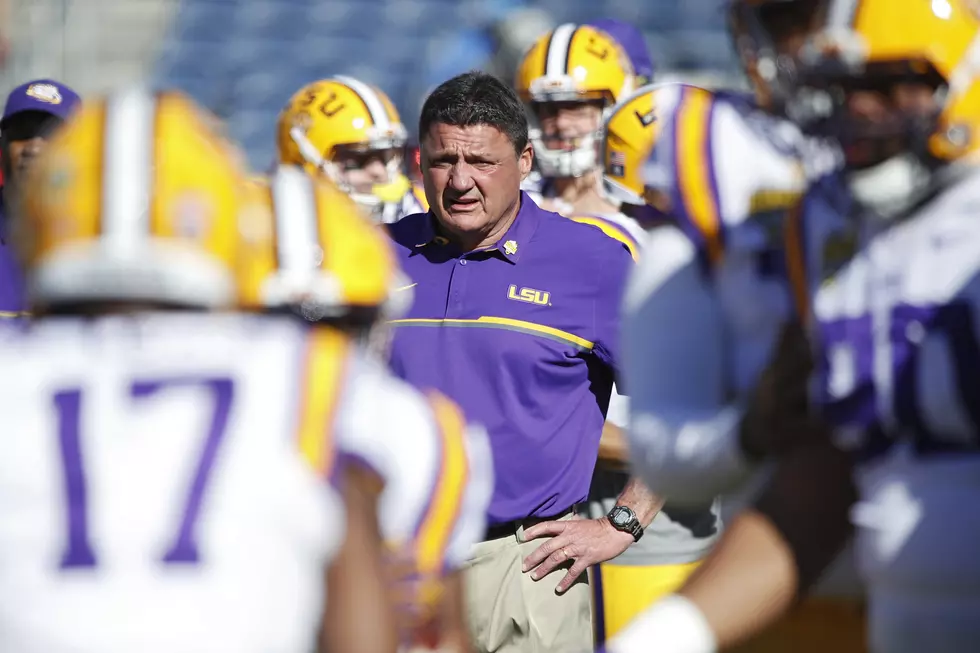 LSU Football Starts 2018 Spring Practice Today
Joe Robbins, Getty Images
Spring football begins today for the LSU Tigers and Head Coach Ed Orgeron.
Coach O says all three quarterbacks, Myles Brennan, Justin McMillian, and Lowell Narcisse will get equal opportunity to try and win the job. This is going to be a big deal for the Tigers, since none of the quarterbacks on the roster have any career starts to their credit. Odds are Brennan has the advantage. Last year he was able to elevate himself to the backup job, even seeing playing time in critical drives during the season.
But his is a new offense, under new (and old) Offensive Coordinator Steve Ensminger. We don't know a whole lot about what that will look like, because when Ensminger was the interim OC, he stuck with a lot of what Cam Cameron had in place. What we do know for sure is that it won't be like the motion-filled Matt Canada offense that made Coach O pull his hair out.
But there actually might be a more concerning issue than a quarterback with no starts, or a new OC...at least for what LSU football has traditionally been...LSU has no running back on their roster with a rushing touchdown in their career.
They have one player with a rushing touchdown on their resume, and it's wide receiver Stephen Sullivan. Senior running back Nic Brosette starts Spring as the number one tailback. Brosette has less than 50 carriers in his career, and just over 300 yards. For reference, Derrius Guice had 276 yards and 22 carries in a single game against Ole Miss last season.
LSU will prepare for the next 6 weeks for their spring football game, which is set for April 21st.