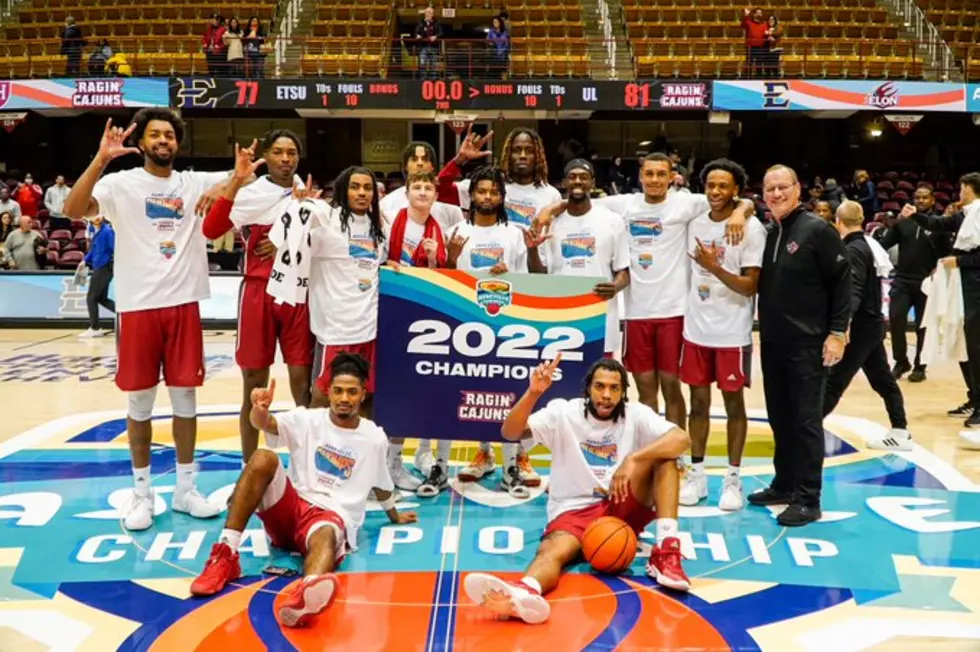 Defending Champion Louisiana Ragin' Cajuns Release Sun Belt Hoops Schedule
Photo Credit: Twitter/RaginCajunsMBB
The defending Sun Belt Basketball Champions, the Louisiana Ragin' Cajuns, released their conference schedule on Wednesday.  The Ragin' Cajuns open the season on December 30th on the road in Huntington, West Virginia against the Marshall Thundering Herd. 
Louisiana's Home Opener comes in the New Year against James Madison January 4.  The Ragin' Cajuns wrap up the Sun Belt Regular Season at home with games against Troy ( and then Southern Miss
December 30 at Marshall
January 4 vs. James Madison
January 6 vs. Coastal Carolina
January 10 at Troy
January 13 at Arkansas State
January 17 at Texas State
January 20 at South Alabama
January 25 vs. Arkansas State
January 27 vs. Texas State
January 31 vs. ULM
February 3 vs. South Alabama
February 7 vs. Georgia State
February 15 at Old Dominion
February 17 at App State
February 22 at ULM
February 24 at Southern Miss
February 26 vs. Troy
March 1 vs. Southern Miss
Things Lafayette Adults Get Excited For That Kids Find Ridiculous
Buckle up, because we're about to explore 8 things that make Lafayette grown-ups jump for joy while leaving kids scratching their heads and thinking, "Wait, seriously? They're excited about that?"
Things You MUST Experience When Visiting Lafayette, Louisiana
There is no shortage of things to do in Lafayette, Louisiana, and if you're a visitor to the city, you definitely need to experience all of these before you leave town. Here's our list of must-have experiences in our city.
Lafayette Stores Your Parents Shopped At That Are Gone Now
I have been feeling very nostalgic lately, and when I get that feeling I often will browse the photos in the different collections on the Lafayette Memories Facebook page.