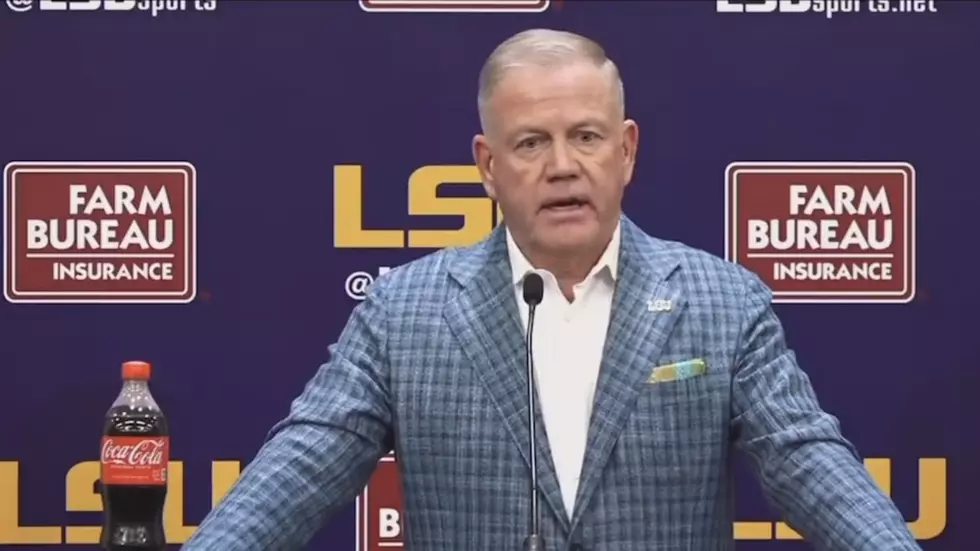 Side-by-Side Photo Shows Discrepancy in LSU Targeting Calls
Twitter via @nolehighlights
At this time one week ago the faithful who support the LSU Tigers football team were licking their wounds. The Tigers had just dropped an important football game at the hands of former Coach Nick Saban and the "not-very-well-liked-in-Louisiana" Alabama Crimson Tide. To make matters worse, LSU star quarterback Jayden Daniels was knocked out of the game by what many feel was an illegal hit.
The hit itself did bring a 15-yard penalty but the Alabama player, Dallas Turner, was not ejected from the game as officials on the field and later in the Southeastern Conference Office determined that the helmet to the head hit by Turner did not fit the definition of targeting.
Fast forward one week today and another targeting call is being discussed concerning the LSU football team. This time it was a hit delivered by LSU's Andre Sam on Montrell Johnson Jr, the quarterback for the University of Florida. Here's how that hit looked.
Andre Sam was ejected from the game because of targeting. When asked how was Sam's hit different than the hit Dallas Turner made against Jayden Daniels LSU Coach Brian Kelly reacted this way. 
Kelly suggested the two hits, although both brutal, were totally different. In the case of Andre Sam for LSU "...was making a football play". While Dallas Turner of Alabama was "...trying to take him out".
Here look at the moment of impact from each play side by side.
On the left, the Alabama player is clearly hitting the LSU player in the helmet with his helmet. On the right, the LSU player is clearly hitting the Florida player in the shoulder with his helmet. The hit on the left was far more dangerous to the athlete than the hit on the right. The hit on the left was not called targeting, the hit on the right was.
So, what exactly is targeting? Here's an explanation. 
Thank goodness officials with the Southeastern Conference are so concerned about the safety of student-athletes. And protecting Alabama's place in the hierarchy of college football. Because based on "the eye test" it certainly looks as if they got these calls wrong to my Mississippi State supporting eyes. By the way, you can get a degree in sarcasm from MSU, can you tell? Sure as hell can't get one in football from State.
The good news for the LSU faithful is that despite having his bell rung against Alabama, Jayden Daniels not only played against Florida, he played lights out against Florida accounting for some 600 plus total yards of offense and five touchdowns in the 52 to 35 win over the 'Gators.
Top 10 Snobbiest Cities in Alabama
Gallery Credit: Mary K