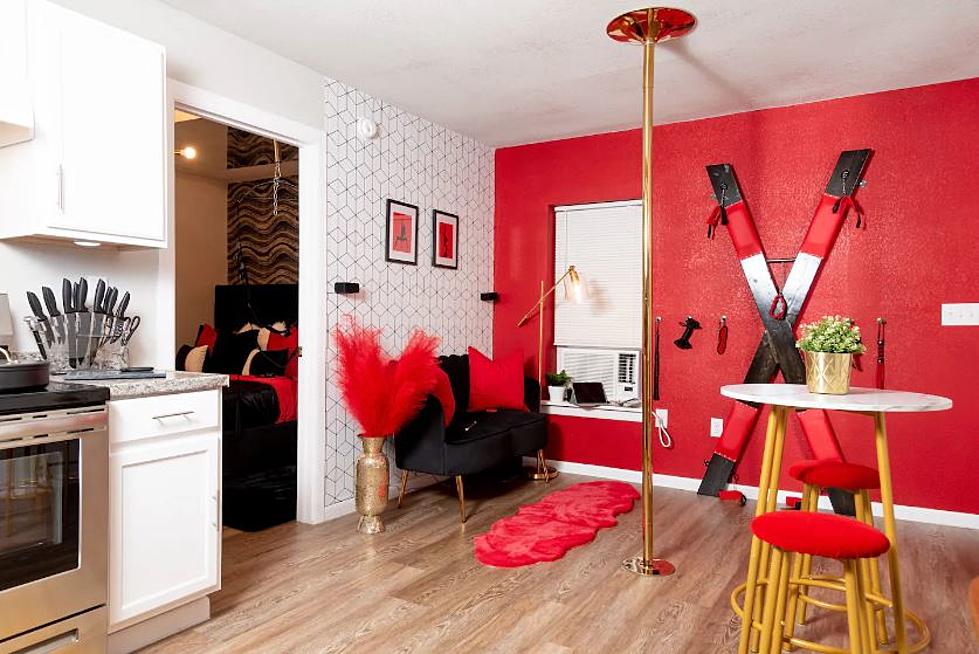 This Unique Adult-Only Airbnb is Located in Central Texas
Airbnb.com
Airbnb is a frequently used platform to rent out a temporary living spaces while traveling. There are all sorts of options from single bedrooms, apartments, and mansions, there is something for everyone. One Central Texas Airbnb especially proves this point as it is an adult-only stay for those that like to live on the wild side.  
The Red Chamber is located in Killeen, Texas, and is labeled as an "intimate retreat and kink play zone" on the Airbnb listing.  
The listing also describes the stay as: 
"A one-bedroom suite designed for sophisticated adults seeking a luxurious retreat. This exclusive hideaway features a king-size bed, full kitchen, upscale decor, 4K TV, high-speed Wi-Fi, and furniture for adults only." 
The entire rental is on-theme with red walls, red lights, red adult furniture, and more. It definitely is not for the faint-hearted but could make for an interesting weekend retreat for couples looking for a unique experience.  
Along with the furniture designed for 'adult entertainment', there is a full kitchen, free parking, fast wifi, and it has great reviews with a 4.93 star rating. These reviews say that the neighborhood it is located in is 'not the best', but it is a clean, fun, creative, space, and the host is very responsive.  
The hosts understand that their rental is not for everyone and do not suggest it as a stay for those that may find the contents of the Airbnb offensive or inappropriate.  
To see more about the Airbnb as well as photos, you can visit the official listing on Airbnb.com. 
A Look Inside a Historic Texas Bed and Breakfast
A Texas Mansion Fit for Royalty
Top Ten Laundry Hacks That Will Have You Tumbling With Joy
We have loads of tips to help elevate your laundry game! Not only will your clothes last longer, but you could even save some money in the process!